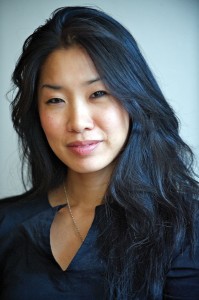 Brooklyn Poet Laureate, Tina Chang, was raised in New York City. She is the author of the poetry collections Half-Lit Houses and Of Gods & Strangers (Four Way Books) and co-editor of the anthology Language for a New Century: Contemporary Poetry from the Middle East, Asia and Beyond (W.W. Norton, 2008) along with Nathalie Handal and Ravi Shankar. Her poems have appeared in American Poet, McSweeney's, Ploughshares, and The New York Times among others.
Her work has also been anthologized in Identity Lessons, Poetry Nation, Asian American Literature, Asian American Poetry: The Next Generation, From the Fishouse: An Anthology of Poems and in Poetry 30: Poets in Their Thirties. She has received awards from the Academy of American Poets, the Barbara Deming Memorial Fund, the Ludwig Vogelstein Foundation, the New York Foundation for the Arts, Poets & Writers, and the Van Lier Foundation among others.
She currently teaches poetry at Sarah Lawrence College.
***
LR: You have spoken of how your role as Brooklyn Poet Laureate has led to a greater sense of moral responsibility, and at Sarah Lawrence College, you even teach a class called "Poet as World Citizen." How does this sense of responsibility play out for you in your writing?
TC: In my role as poet laureate, there is a public connection and recognition of matters that are important to me: education, literacy, the Asian American experience, the female experience, motherhood. These are only a few of the topics to which I pledge loyalty, and those communities have helped me feel a firmer footing in a sometimes uncertain world.
When I conceived of the class "Poet As World Citizen," I envisioned a student who never loses their sense of themselves as an active participant in a world in flux. I can no longer live in a vacuum, and I think our literature and the study of it must reflect that. I can no longer write a domestic kind of poetry which doesn't call attention to the complexities outside of the United States. Because I teach and I engage in my community, I feel invested in ongoing dialogue, a dialogue of exposure, questioning, and investigation. I bring all of this to the page when I write.