Panax Ginseng is a bi-monthly column by Henry W. Leung exploring linguistic and geographic borders in Asian American literature, especially those with hybrid genres, forms, vernaculars, and visions. The column title suggests the English language's congenital borrowings and derives from the Greek panax, meaning "all-heal," together with the Cantonese jansam, meaning "man-root." This perhaps troubling image of one's roots as panacea informs the column's readings.
*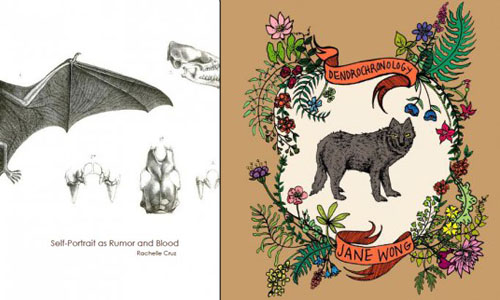 Rachelle Cruz's Self-Portrait as Rumor and Blood and Jane Wong's Dendrochronology
*
The cover of Rachelle Cruz's Self-Portrait as Rumor and Blood (2012) features a skeletal exhibit of animal skulls and fangs, together with a spread-winged bat cleaved in half at the book's spine. The back cover is a folded double of the front, which means we never see the bat's torso or head (is it a bat at all?), only its bony limbs and the webbing between them. Jane Wong's Dendrochronology (2011) features a floral-wreathed frame; within it, standing against a bright background suggesting a mirror or window, is a wolf turning to regard the viewer. Since these covers already work with mirror images, I'd like to hold these two chapbooks from Dancing Girl Press up to one another like mirrors, to see whether a rabbit hole might be found in the reflections' depths. Consider the titles as well: a "self-portrait" fixes the artist's gaze on herself, though the resulting image is of course only another depiction or illusion distorted by the medium, a rumor of sorts; and "dendrochronology" refers to those hypnotic concentric rings coded within the trunk of a tree, those layers expanding outward with time which we trace back to examine in cross sections.
In both chapbooks, the poems work within landscapes of violence and preservation. The central figure of Cruz's Self-Portrait is the mythical Aswang of Filipino folklore, a placeholder for many ghoul/monster archetypes; here, she uses it as an object of savage exoticization, and as a mirror. These lines of verse prefigure the chapbook,
 There was a girl who wanted to become an aswang

She didn't know why aswang

While living in one country

another split her chest open
Continue reading "Panax Ginseng: Two From Dancing Girl Press" →