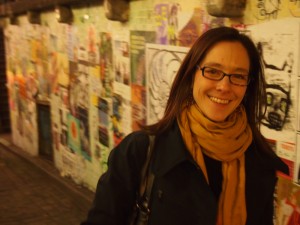 Tamiko Beyer is the author of the award-winning poetry collection We Come Elemental (Alice James Books), and chapbook bough breaks (Meritage Press).

Her poetry has appeared in The Volta, Octopus, DIAGRAM, H_ngm_n, diode, Copper Nickel, The Progressive, and other journals and several anthologies. She is a founding member of Agent 409: a queer, multi-racial writing collective in New York City that performed across the east coast and led workshops at conferences such as the U.S. Social Forum and Split this Rock Poetry Festival.
She has received several fellowships and grants, including a Kundiman fellowship, a grant from the Astraea Lesbian Writers Fund, and an Olin and Chancellor's Fellowships from Washington University in St. Louis. She was a longtime workshop leader for the New York Writers Coalition.
With a background in communications writing and grassroots organizing, Tamiko has worked for a variety of nonprofit organizations, including the news program Democracy Now!, feminist film distributor Women Make Movies, and San Francisco Women Against Rape. Today, she is the Senior Writer at Corporate Accountability International.
Raised in Tokyo, Japan, Tamiko has lived on both the East and West coasts. She received her B.A. from Fairhaven College at Western Washington University and her M.F.A. from Washington University in St. Louis. She currently lives in Cambridge with her partner, architect Kian Goh.
* * *
LR: Water is the element that is focused on in We Come Elemental, and you have spoken about your interest in the queerness of water. Could you please tell us more about how you envision water as representative of queerness? How does this manifest itself in the book?
TB: Today, just a few days after the Supreme Court struck down the federal "Defense of Marriage" Act, is the last Sunday in June, and New York City is celebrating Gay Pride in all it's corporatized glory. And [I do mean] it's.
While I understand and appreciate the many wonderful things about the growing acceptance of gay people by mainstream society in the U.S., I also know that acceptance hinges to a large extent on an idea that gay people are "just like us," with "us" being (to generalize for sure) white, middle class, heteronormative Americans, coupled with children.
And I'm thinking about how, for me, queerness—well, queer. That is, queerness is: not normative, existing on the exciting and sexy margins of sexuality, constructing radical and meaningful family structures that have little to do with the nuclear family and everything to do with chosen bonds. For me, queerness finds its power in its freakiness. And queerness is everywhere, has always been around, and, as it exists in the margins and applies its critique on the mainstream, is critical to the vitality and vibrancy of humanity. Which is also what makes it so terrifying to so many people.
I'm not sure I would say water represents queerness per se; rather, I find an inherent queerness in the element of water, and particularly in the fluidity of the element. My friend, poet Oliver Bendorf, who also writes a lot about water, described its queerness perfectly: "[I]t shape-shifts, takes on different forms, flows in hardened cracks, expands to fill the space it's given."
Water, so soft and smooth, will, in its insistent force, wear away vast canyons. It will freeze into glaciers that last for centuries. It will wash away whole shorelines. It is damn powerful—and its power is sometimes on full display (the crashing waves [of] the ocean, hurricanes and tsunamis), but more often it is barely noticeable, yet pervasive and inescapable. It (or its lack) permeates and affects almost every aspect of our lives—from our environment to the weather to how we nourish and sustain ourselves to how we play. This is how I see the force of queerness reflected in the element of water.
The poems in We Come Elemental are interested in many aspects of water, its queerness and eroticism, its pervasiveness, its ability to both heal and devastate. They also explore the not-so-simple relationship between human power and nature's power of destruction and creation, in which water plays a key role.
LR: Could you walk us through the evolution of the collection's eponymous poem, "We Come Elemental?"
TB: It's impossible to know exactly when and where a poem begins, but I remember being fascinated by the idea of bioremediation. My partner is an architect focusing on sustainable design, and she told me about these systems in landscape architecture where plants are used in a specific system to turn graywater—waste water—into clean water. They are nourished through our waste products, and their waste becomes our water. I loved this idea and wanted to write about it.
At some point while crafting the poem, I visited Paterson, New Jersey, with some friends. We spent some time at the Passaic River and the waterfalls right in the middle of the city. Paterson (the subject of William Carlos Williams's epic, five-book poem) is an old mill town and owed its wealth and growth to the power of the waterfalls and the river. I was interested in the juxtaposition of the gorgeous falls and river with the very urban, post-industrial setting of the city, and [the] long complex history of society, water, power, industry, and pollution. In an earlier version of the poem, both the Passaic and Hudson rivers made an appearance in this context. But in the end, I decided to keep the focus on this elemental system, waste and plants, so I stripped out what might detract from that.
LR: The poems in We Come Elemental make great use of the visual space of the page with their experimental approach to punctuation and lineation, but at the same time, when listening for the music of the poetry, it is apparent that you have also paid close attention to rhythm and sonics. Could you speak a bit about the role of form and how you approach it in the book?
TB: I'm interested in the different possibilities of meaning making, and pleasure making in poetry—from the meaning created by the materiality of the language (sound, rhythm, texture, patterns on the page), to the engagement of ideas and the evocation of image.
In writing poems that engaged with the materiality and idea of water, the relationship between humans and "nature", the destruction caused by corporate-driven consumption of natural resource, and queerness, queer desire, and queer love, I sought various ways of making meaning, and sought to find ways to engage with form that furthered the exploration of ideas.
At times, I also used form to counterbalance the more experimental play with language. The long sequence in the middle of the book, "Dear Disappearing," for example, was, until quite late in the manuscript's evolution, all over the map in terms of form, while engaging with some heady ideas and using more experimental language. It was a little bit of a mess. But I had a natural tendency toward tercets throughout the poems in the book, and so I made a decision to rein in "Dear Disappearing" through deliberate use of tercets and couplets. Which worked, I think, to harness and focus its energy in useful ways.
The Japanese form of the haibun has also been a great obsession of mine, which I wrote about at the Volta. And I wrote about it specifically in regards to We Come Elemental in the Next Big Thing interview-meme that was going around a bit ago.
Two series of haibuns bookend the manuscript. I use it as a way of connecting to long poetic tradition, to which I can lay some kind of partial claim. The haibun, of all ancient Japanese poetic forms, speaks to me because of its hybridity, which lends itself easily to contemporary themes, and which is queer in and of itself. It refuses to stay put.
LR: How did you develop the idea of the double colon? How do you envision its function in a text?
TB: I first became interested in the possibility of imbuing punctuation with new meaning when reading Alice Fulton. She "invented" the "double equal sign" because, as she says, she was "interested in devising a punctuation mark that could have content without having a firm denotation or definition." I thought about this for a while, and the idea [of] experimenting with punctuation was in the back of my mind for the next year or so. Eventually, I decided to see what might happen if I played with meaning and symbol.
I've always had an affinity with the colon; I've used it a lot. I like how it looks, aesthetically, and was always interested in how it works within the line, and at the end of the line. I'm interested in how it affects rhythm and time (that is, how it can choreograph pauses and breath). So I began to experiment with the double colon as a way of playing with disruption within the line.
I've talked more about the double colon in an interview I did with my press, Alice James Books. I said:
I am interested in experimenting with how it can be read from left to right, right to left. I like how it insists on tangible boundaries while simultaneously disrupting demarcations, asks for multiple readings, and questions the equation of direct correlation but posits interconnection. I also see it as a built environment, and queer.

For me, the double colon breathes new life into co-opted, saturated forms, wrestling both queerness and greenwashing away from corporate and mainstream speech acts. It holds queerness in all its discomforts and embraces the entirety of ecology (ecology of language, of human creation, of thought, emotion, and of the "natural" world).
LR: You coined the term "queer::eco::poetics." How would you explain its meaning? From what poetic traditions has it emerged? And in you opinion, how can poetry participate in asserting the importance of the environment and respect for nonliving beings, such as water, in the world?
TB: A few years ago, the poets Barbara Jane Reyes and Oscar Bermeo asked me to contribute to an issue of poetic manifestos in their online journal, Doveglion. I didn't know if I had it in me to write a manifesto, but I thought I'd try to start articulating what I had been thinking about in terms of the kind of poetics I was interested in—essentially an ecopoetics through a queer lens. I'm certainly not alone in this exploration: there was a whole seminar on it in a recent ecopoetics conference, and Brian Teare's work and thinking resonates with me very much.
My thinking about queer::eco::poetics has certainly come out of the recent scholarship around ecopoetics, as well as queer theory. And I'm indebted to the experimental/avant garde poetic traditions in this country, from the L=A=N=G=U=A=G=E poetics of the 80s through today's "broken lyric" poetics.
One of the interesting things poetry can do, I think, is to help us re-think and re-imagine our relationships—our relationships to language, to meaning, to each other, and to what surrounds us (including all the animate and inanimate beings that make up the "environment"). I'm interested in how disrupting my relationship to language (and meaning) might help me see new ways of being in and interacting with the world that surrounds me. I'm interested, too, in breaking down the boundaries of what is natural and not natural. I see how the distinction between "natural" and not has propped up all sorts of inequalities and injustices—from the ostracization of queers to a divorcing of humanity from the animal world. I think poetry (that is, a text that takes nothing for granted and requires the reader to actively participate in meaning making) can help raise questions, suggest new relationships, and open up new possibilities for interactions, to the benefit, I hope, of the earth's survival.
LR: As a queer, mixed-race Asian American poet, how do you navigate those multiple identities and their various meanings and constructions? What poetic strategies do you employ?
TB: I thought a lot about my multiple identities in my twenties and early thirties. I learned a lot about myself and how I navigate the world through writing poems that explicitly explored my racial and sexual identities and positions. At that time, I tended to rely more heavily on narrative and confessional poetic traditions.
Now, I am more interested in exploring the ambiguities of identities—the liminal and multifaceted—as reflected in language [that is in] itself more ambiguous and uncertain. As a femme-identified, mixed race woman often read as white, I am always interested in provoking uncertainty and ambiguity in those who "read" me—my body and my texts.
Along those lines, I've also been interested in exploring desire as a queering form. In returning to some of my thoughts at the beginning of this interview, what I am interested [in] as a queer being is the queerness of my desires—sexual and romantic and intellectual and poetic and political. I am working on a new series of poems that seem to be investigating the many facets of queer desire. I'm hoping they will take fire as their elemental theme, though that has yet to work out successfully. It might be too neat to go from water to fire. And I tend to be more messy than neat.
LR: Has being a poetry editor at Drunken Boat changed your perspective as a poet, and if so, how?
TB: I was the poetry editor at Drunken Boat for several years, and it was a great experience. It was incredibly exciting to come across work that was so strong and beautiful, as well as work that was totally new: trying and sometimes failing and sometimes succeeding as it experimented.
It also made me aware of how much poetry written today sounds so similar and fails to address the world outside the narrow scope of the writer's own life.
So I think my time at Drunken Boat helped me be more rigorous in my own writing.
LR: How has participating in the Kundiman fellowship program impacted your writing and writing life?
TB: I became a Kundiman fellow [in] 2005, before I knew very much about the literary world, or how I might enter into it. The mentorship and community I found through Kundiman not only helped me become a better poet, it showed me all the ways one can participate in the current poetic landscape. Being in a space where poetry is undeniably one of the most important and consuming things one can do in one's life—no apology, no doubts—I found the courage to claim that for myself. At the Kundiman retreats, I was also introduced to Asian American poets whose work I didn't know before and from whom I have now learned so much.
For me, Kundiman has never been about being an Asian American poet; it is about being a poet in a community where my race, experiences with racism, and my experiences as a mixed-race person did not have to be explained. It was also a space where I could feel safe as a woman and as a queer person. I have never been part of such a community before or since. It is so rare to be allowed my multiple identities, where I do not have to pick one over the others; I feel lucky to have had that experience at Kundiman.
This sense of generous, openhearted, open-minded approach is also what gives the Kundiman retreat a special rigor in terms of its approach to poetry. No one aesthetic or poetic community/school is privileged: what poetry looks like, sounds like, how it exists in the world and for what purpose—all this is respectfully discussed, debated, and considered from multiple angles. This requires both faculty and fellows to have the flexibility and intellectual acuity to understand approaches that are different from our own, and at the same time develop the capacity to articulate our own positions. It also encourages phenomenal change and growth in our development as poets. I have seen it in my own work and in the work of other fellows.
In the end, I feel sure that I would not be here—with an MFA and now a book—without the support, challenge, and community that Kundiman provided me. And for that, I will be forever grateful.