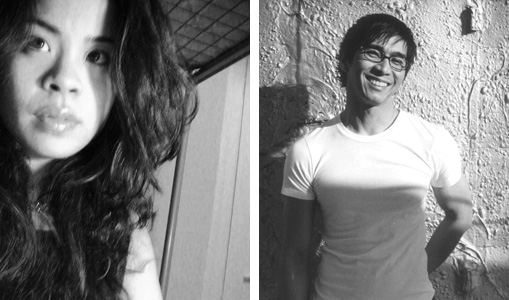 To round off our APIA Heritage Month celebration, we sat down with Joseph O. Legaspi and Sarah Gambito, the co-founders of Kundiman—a nonprofit that serves young and emerging Asian American poets through its retreats, reading series, and community resources—to ask about their thoughts as the organization approaches its tenth year.
* * *
LR: Kundiman is coming up on its tenth anniversary this year. How are you feeling about its turning a decade old? What have been some of your favorite moments from your involvement with it over the last ten years?
JL:  Kundiman going on 10 years is astounding to me. Wow! My feelings are overwhelmingly mixed, all strong emotions: for the most part I feel elation and pride, partially with dread and anxiety because there is still so much to do. The question is where do we go from here? We have a decade worth of accomplishments—most prominently, nearly 60 books and chapbooks published by Kundiman fellows—but how do we get to the next level where we are more stable and branch out and empower more Asian American writers. Oh, it is a celebration, of course, but now we're working on how to sustain Kundiman for the next 10 years, and the next . . . As for my favorite moments, there are just too many. Lawson Inada at the Chinese buffet. Marilyn Chin dancing. The fellows' sandwich-making contest. All closing circles. The singing, the camaraderie, the poems. The poems. The whole roller coaster [of] experience[s] as some of the most joyous in my life.
SG:  I agree. It overwhelms me that it has been 10 years. We've now seen an arc of fellows coming into their own—literally growing up before our eyes. We've read their poems, their books, attended their weddings, celebrated the births of children. It has been such a privilege to be able to witness fellows mentor each other, to become each other's best and most trusted readers. What I love is that we've become a family in ways that are mysterious and then not mysterious. (This past winter, I hosted around 15 fellows at my apartment and cooked huge pots of ma po tofu and fried rice.) As for favorite moments, there are so many. I loved the Kundiman reading where Bei Dao and a fellow who had never read in public before and was just finishing college, Yael Villafranca, read together. I was thunderstruck because I realized that I was witnessing something that was so hard-worn, rare and precious: the knitting of generations of Asian and Asian American poets. I love the fellow toasts at graduation where we get to see how fellows have been so aware of each other and are praising each other.  I loved Kimiko Hahn saying "I give myself permission to be a writer. I've worked too hard to not do this" and then watching the fellows invoke this throughout the retreat in their own ways, both literary and personal. I loved having Tan Lin at Kundiman and watching him blow workshops out of the water and seeing fellows reorient their relationship to what words can do.
LR: In a previous interview on the LR blog, Joseph told us the story of Kundiman's origins, and how the idea came into being at a family barbecue of Sarah's where you discussed your shared longing for a literary community that felt like family. I think it's safe to say that your dream has since been wonderfully achieved—and in no small part thanks to the culture of warmth and hospitality that you've cultivated through the unity of your vision and the strength of the partnership that you have with one another. What do you like most about working together on Kundiman? How would describe your working relationship? What would you say each of you contributes to the partnership?
JL: Kundiman wouldn't even exist without the vision and passion and sheer tenacity of Sarah Gambito. I'm frequently astonished by her drive, instincts, and eloquence. How her mind works, with such speed and intelligence.  I believe we work well together because we give each other space, then we get together; and it's a true collaboration. We're open to each other's ideas. She elevates me, I pull her down to earth. I reel her in, she releases me. And along the way, amidst all the hard work, there's mutual respect, sibling love, and a whole lotta laughter.
SG:  There would be no Kundiman without Joseph's strength of heart, utter vision, power of charm, and resourcefulness. I so deeply admire him and learn so much from him. I'm gleeful that I get to work with him.  I trust him to see what we are doing in every most expansive way. We've always had the same attitude of service toward Kundiman. From hauling bags of ice to filling out endless forms and reading applications, we both were not afraid to work harder than we have ever worked to make Kundiman's mission a reality. And yes—laughter. Laughter is the the crucible of Kundiman and Joseph has brought so much of that to my life.
LR: Kundiman is notable not only for its support of the people within its network, but also for its engagement with the larger literary community and its collaborations with other communities of color. For example, on the tenth anniversary of 9-11, Kundiman organized a program called "Kavad" that was meant to give New Yorkers a chance to hear and engage with Asian American voices in the midst of all of the nationalistic (and often racist) furor surrounding much of the mainstream discourse about the tragedy. Other examples of inter-community collaborations have included your close relationship with Cave Canem and the reading series that you host in tandem with the NYC bar Verlaine. What, if any, do you think has been the impact of these collaborations: both on Kundiman itself, and on the larger literary community?  Why do you think it is important for Kundiman to continually reach outside of itself in this way? What sorts of other collaborations would you like to see happen in the future, and are there any in the works now?
JL: Community-building has always been at the heart and mission of Kundiman. Beyond the building of an Asian American literary community. We are a tiny organization and we could only do so much; partnering with other organizations is key: the retreat with Fordham University, the Kundiman Book Prize with Alice James Books, and the NYC reading series with Verlaine. Now only are these partnerships enabling is to serve our direct constituents, but they broaden our reach.  Moreover, we learn from these partnerships, trying to accomplish common goals.
In the future, I'd like to see more direct collaborations by way of a weekend conference or forum with Cave Canem, CantoMundo, and other literary groups, and the creation of a similar organization for Native American writers.
SG:  Yes, Kundiman is enriched and enlivened by these critical partnerships. They allow us to move beyond our scope of ability and engage in a multi-platform dialogue. There is so much work to be done and there is no possible way that we can do this on our own. These partnerships give us sustenance, perspective, and grounding.  It is important that Kundiman continues to reach out beyond itself, as we are comprised of individuals, and we need others to see for us what we might miss. We'd like to work more with Cave Canem and CantoMundo as well as with The Asian American Writers' Workshop, Kearny Street Workshop, and Asian Arts Initiative. Additionally, we are working on exploring partnerships with Asian American student groups at Fordham University.
LR: How has your involvement with Kundiman influenced each of you—both personally, and as writers and teachers/administrators?
JL: It's funny, because at times I've had difficulty thinking of the days before Kundiman. How memory works: in my mind, it's always been a part of my life.  In a way, my being a co-founder of Kundiman has become an identity. I adamantly brushed it off, or even railed against it at a certain juncture in my life; I felt my poet-self had been forgotten, but that's not so much the case now. I'm multi-faceted, I realized! And I reiterate: Kundiman is one of my most precious accomplishments. At every retreat, at Kundiman readings, every time I'm around the fellows, I'm floored at how talented and luminous they all are!  And I'm proud that in the tiniest way I contributed to that, in their development. Because of Kundiman I've become more evolved as a writer and as a person.
SG:  When I was 21 and had just moved to New York City, I remember just feeling overwhelmed and at a loss. I knew I wanted to be a writer, but I didn't really know what that meant. I was so hungry for fellowship and belonging and I didn't know where to look for it. I remember going to readings and standing beside the cookies and not knowing what should happen next. I needed Kundiman before Kundiman. And, I realized that sometimes you have to become what it is you wish you had. Kundiman has sheltered me and continues to provide me with the grist, the tools to believe in myself as a poet. As a teacher and administrator, I've learned how to fight for what I want. Nothing is given. The fight is harder and easier and more pleasure than I had thought possible.
LR: Over the course of the last ten years, you've worked with many different "micro-generations" of emerging poets through the successive cohorts of fellows who have come through the retreat. In what ways have you seen the face of Asian American poetry change, as reflected in the young poets you've met over the years? Where do you see (or hope to see) the future of Asian American poetry heading, and how do you envision Kundiman's role in that?
JL: Sarah once observed that there's a generation of Asian-Am[erican] poets who've never known Kundiman NOT to exist! They've always had it available to them. It's mind-boggling because Sarah and I created Kundiman because of the absence of an organization like it.  And now Kundiman is here to serve and foster Asian American poetry!
As far as the "face" of Asian American poetry, [I'm] not sure I could answer that, but I could offer what I've witnessed in the Kundiman microcosm. I see young poets who are fearless and with a broader sense of the world. They are adept and willing to experiment with poetics and poetic forms. They tackle myriad subject matters; they have different preoccupations and obsessions. They are world-weary, cosmopolitan, nature-lovers, gender benders, fierce activists, academics, tech-savvy, virtual and personal, steel and wounds, and most of all, open-minded, open-hearted.
SG:  I feel like I've seen more young people become empowered and emboldened to claim an identity as an Asian American poet. I've seen a healthy embracing of all forms and aesthetics of poetry. Young people are realizing that one does not have to be an academic to be a poet.  They can come to poetry on their own terms. I'd like to see Asian American poets lead the charge with digital creative writing and new forms of new media publishing in tandem with artisanal modes of print-making. At Kundiman, I'd like for us to host some kind of skill-share where we identify ways to devise a toolkit for how our poets are contending with the idea of being/becoming a 21st century creative writer.
LR: How can people learn more about Kundiman, and what should they do if they'd like to help support its work?
JL: Well, we have a newly redesigned website: www.kundiman.org, your one-stop shop for Kundiman information. Once you've learned what Kundiman is all about, engage and take advantage of our programs. Reach out to us. We're very friendly. And if you believe [in] sustaining a vital organization that nourishes Asian American voices and promotes social change through literature, please support us by making a donation. Now is the best time because our dear Kundiman fellows have launched an Indiegogo campaign to assist in building Kundiman, in taking the organization to the next level. You're one click away.
SG: Yes, check out the Kundiman website. Kundiman is a collective of writers and readers. Join us in our telling of the Asian American story. We need you:  your words, experience, and belief beyond measure that Asian American writers deserve to be nurtured. Consider contributing to the Indiegogo and coming to a Kundiman event/program. We are looking forward to seeing you.
* * *
Joseph O. Legaspi is the author of Imago (CavanKerry Press) and the forthcoming chapbook Subways (Thrush Press). He lives in Queens, NY, and works at Columbia University.  He co-founded Kundiman, a non-profit organization serving Asian American poetry.
Sarah Gambito is the author of the poetry collections Delivered (Persea Books) and Matadora (Alice James Books). Her poems have appeared or are forthcoming in The Iowa Review, The Antioch Review, Denver Quarterly, The New Republic, Field, Quarterly West, Fence, and other journals. She holds degrees from the University of Virginia and the Creative Writing Program at Brown University. Her honors include the Barnes & Noble Writers for Writers Award from Poets and Writers and grants and fellowships from The New York Foundation for the Arts, Urban Artists Initiative, and the MacDowell Colony. She is assistant professor of English and director of creative writing at Fordham University. Together with Joseph O. Legaspi, she co-founded Kundiman, a non-profit organization serving Asian American poets.
To support Kundiman's work in a tangible way, please consider donating to their Indiegogo  fundraising campaign, which closes this coming Sunday, June 2nd. Every little bit counts!