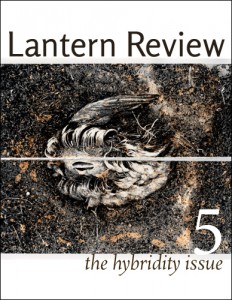 At long last, the fifth issue of Lantern Review is now live! (And our site has been given a long-overdue face lift to match). Themed around the topic of "hybridity," Issue 5 features 100 pages of content, including poetry by Desmond Kon Zhicheng-Mingdé, Amy Uyematsu, Sally Wen Mao, Esther Lee, Christopher Santiago, Khaty Xiong, Kristen Eliason, Jane Wong, Carrie Green, and Ching-In Chen; visual art by Karen An-Hwei Lee and Michael Marcinek; and a special feature on the work of Takeo Rivera, in which we interview the poet/playwright/scholar and present an excerpt of his choreopoem Prometheus Nguyen. Our very first themed issue, and perhaps our most challenging to put together to date, Issue 5 has been a long time in coming, but we think it's been more than worth the wait, and we're confident that you'll feel the same.
To enter the issue, click here or on the cover image at the top of this post. We'd love to hear what you think about this new, thematic format, as well as our transition to a more streamlined, Google-Fonts-based design for both the site and the magazine. And of course, if you experience any technical issues while browsing, please don't hesitate to let us know that, either. Drop us a line at editors [at] lanternreview.com at any time; we're always grateful for your feedback.
A very happy Monday (of AWP week!) to you, and many thanks again for your continued support of Lantern Review.
Peace and Light,
Iris & Mia
LR Editors