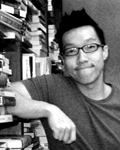 This May, as part of our celebration of APIA Heritage Month, we have been asking teachers and writers of Asian American poetry to share favorite writing exercises with us.  This week, in acknowledgement of the fact that the work of reading and theorizing Asian American poetry is as important as the work of writing it, we're changing things up a bit by adding a perspective from the world of literary criticism to the mix.  For today's Curated Prompt, we have the privilege of collaborating with one of our regular guest contributors—Asian American Literature scholar and Stanford professor Stephen Hong Sohn—as he writes about one of his aesthetic interests and shares, for the very first time, a sample of his own (hitherto secret!) creative work.

Alexis Kienlen's She Dreams in Red begins with my favorite kind of poem: the "food pornography" poem, which immediately problematizes issues of authenticity and Asian American identity. The lyric speaker often contemplates ethnic heritage as routed through her mixed-race background. What does it mean to so unabashedly crave ethnic foods, the lyric speaker seems to ask?  What can one claim ownership over, and what can one not?
Here is an excerpt from the opening poem, entitled "Chinese Café":
"i want to savour pork dumplings,
dribble hoisin, garlic and black bean sauce over rice,
want to twist and drip noodles into my mouth,
lick my lips" (11).
The ending of the poem leaves us with this line: "this Chinese café stays open all night," and we, as voracious readers, couldn't really be happier.
Marking ethnicity is always a challenge within poems, but many Asian American poets such as Li-Young Lee and Aimee Nezhukumatathil have been able to explore gastronomic tropes with much complexity, and often with much humor.  At once, we understand that food can mark ethnicity, but that it can also be deconstructed or employed to complicate superficial consumptive habits. Food also provides a particularly rich terrain of vocabulary. As someone who can't cook myself, I find cookbooks endlessly fascinating and endlessly ethnic. Frank Chin once made a scathing critique of writers who employ food pornography as a way to mark themselves as native informants, but it's difficult to know when excess is intended or not. For the purposes of this exercise, we'll intend to push this excess, as Kienlen does when craving those "wontons" and "custard tarts" (11). Here is a food pornography poem I'd like to share:
Vietnamese food pornography poem #2: the sacred and profane

on this misted early morning
the haze ever so beta-particulate
japan's nuclear crisis compared to Chernobyl
but culinary erotics distract me
the sensuous curve of the baked egg tart from Kang Lac
hand pressed pork puffs and steaming pork buns
so coy under the dim lights of Asian Garden Mall
Yum Cha Café boasts the understated elegance
of coconut crusted mochi balls with taro curd filling
flirtatious with such pliant, feathered skins
next door, Bánh Mi Saigon delivers me
into succulent hybridities: liver pâté, cold cut meats,
pickled carrots and turnips, all on French baguettes
postcolonial oriental cosmic

can i be so apolitically gastronomic
in these electromagnetic times
what intersections do i allow at Bolsa and Magnolia?
vendors at food stalls gesture in Vietnamese
frown, furrowed brows, shrugged shoulders
i profess that i am purely Korean
retreat into a bustling noodle shop
where my psychic sukiyaki emits a spectral glow,
brains scrambled in sinewy ramen, measured in sieverts
tripe floats on radioactive, soupy currents
bulgogi strips infesting this curry-flavored broth
as i later salt my phở with iodine and wasabi
Now, let's see your version of a "food pornography" poem.
Prompt: write a poem that engages greedily, lasciviously—even pornographically—with the sensual pleasures of consuming "home" or "ethnic" foods in order to challenge, reimagine, or push familiar culinary markers of ethnicity into the realm of playful excess.
* * *
Stephen Hong Sohn is an Assistant Professor of English at Stanford University.