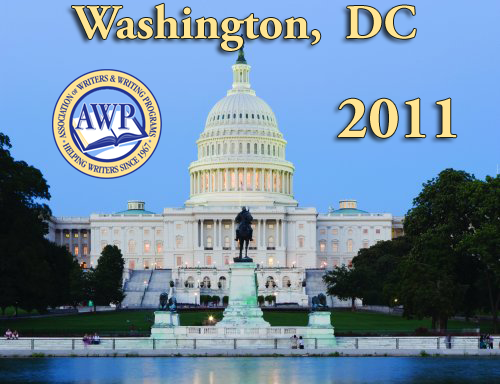 It's hard to believe that a year has gone by since last year's AWP Conference in Denver, but the months have indeed flown and—it's that time again!
The editors of LR have assembled a list of panels and readings we thought might be interest to readers and writers of Asian American poetry.
Keep an eye out for us in particular at Kundiman's panel on Friday at noon — we'll have promotional materials and information about our off-site reading, scheduled for Friday night at 7:30 PM.
If you're browsing the bookfair, you'll also be able to find our materials at the Boxcar Poetry Review table.
We look forward to seeing you in DC!
The Lantern Review Guide to AWP 2010 | Events of potential interest for LR readers…

Thursday| February 3, 2011
9:00 a.m.-10:15 p.m.
R108. Mongrels, Monsters, and Mutants: New Identities in Contemporary Poetry. (Joshua Kryah, Cathy Park Hong, Bhanu Kapil, Myung Mi Kim, Prageeta Sharma)
R111. Courting Risk: A Multicultural/Multi-Genre Reading. (Khadijah Queen, Natalie Diaz, Naomi Benaron, L. Lamar Wilson, Susan Southard, Ariel Robello)
10:30 a.m.-11:45 a.m.
R125. Traveling Stanzas: Promoting Poetry and Design in the Community. (David Hassler, Nicole Robinson, Essence Cain, Scott Parsons, Valora Renicker, Natasha Rodriguez)
R138. Creative Writing Fulbright Fellowship Reading. (Katherine Arnoldi, Katrina Vandenberg, Erika M. Martinez, Gail M. Dottin, M. Thomas Gammarino, Josh Weil)
R142. If I Can't Dance You Can Keep Your Revolution: A Reading by Six Writers of Political Engagement. (Sean Thomas Dougherty, Crystal Williams, Silvana Straw, Roger Bonair-Agard, Dora McQuaid)
R144. Beyond Print: Digital Directions in Literary Publishing. (H. Emerson Blake, Michael Archer, Jeffrey Thomson, Ram Devineni, Steven Lagerfeld)

Noon.-1:15 p.m
R146. The Poem as Ghost / Haunted Americas. (Camille Norton, Marilyn Nelson, Matthew Zapruder, Ramon Garcia, Samiya Bashir)
R150. The Rosary Effect: The Challenges of Writing from a Catholic Perspective. (Haley Lasche, Luisa Igloria, Linda Norton, Ruben Quesada, John Reimringer)
R157. Filling the Void: Growing & Sustaining Literary Communities. (Jill Pollack, Christopher Castellani, Alix Wilber, Kyle Semmel)
1:30 p.m.-2:45 p.m.
R171. Rebuilding Babel: Writers Teaching Translation. (Carrie Messenger, James Shea, Monica Mody, Johannes Göransson)
R177. A Different Kind of Hybrid: Race, Lyric, and Innovation. (Ruth Ellen Kocher, Sarah Gambito, Dawn Lundy Martin, Wendy S. Walters, Soham Patel)
3:00 p.m.-4:15 p.m.
R188. Smashing the Box: Fresh Faces and First Books by Asian American Poets. (Esther Lee, Cynthia Arrieu-King, Joseph O. Legaspi, Neil Aitken, Purvi Shah)
R189. The Art and Authenticity of Social Media: Using Online Tools to Grow a Community. (Jane Friedman, Tanya Egan Gibson, Guy Gonzalez, Bethanne Patrick, Christina Katz)
R205. Two Jews, a Catholic, a Buddhist, a Mennonite Sufi Shaman, and a ________ walk into an AWP Panel: Geography's Influence on Writers Writing Religion and Culture. (Eric Wasserman, Ira Sukrungruang, Heather Derr-Smith, Bich Minh Nguyen, Mary Biddinger)
4:30 p.m.-5:45 p.m.
R211. Speak Peace: American Voices Respond to Vietnamese Children's Paintings Dramatic Reading. (David Hassler, Ellen Bass, Dorianne Laux, Long Chu, Bruce Weigl, Alberto Ríos)
R229. The Colors of Nature: Culture, Identity, and the Natural World. (Lauret Savoy, Elmaz Abinader, Faith Adiele, Fred Arroyo, Debra Kang Dean, Nikky Finney)
8:30 p.m.-10:00 p.m.
R232. Keynote Address by Jhumpa Lahiri, Sponsored by George Mason University. (Jhumpa Lahiri)

Friday | February 4, 2011
9:00 a.m.-10:15 p.m.
F111. Race in the Creative Writing Workshop. (Cynthia Cruz, Michelle Y. Valladares, J. Michael Martinez, Suzanne Gardinier, Saeed Jones, Carolina Ebeid)
F112. Written Across Waters. (Patrick Rosal, Elana Bell, Aracelis Girmay, David Wright, Curtis Bauer, Tyehimba Jess)
F120. Doubled Voice: Poems and Translations. (Kristin Dykstra, Lila Zemborain, Mariela Méndez, Daniel Coudriet, Eduardo Espina)
10:30 a.m.-11:45 a.m.
F126. The Poetry of Truth: the Role of Research in Contemporary Poetics. (Cole Swensen, Susan Howe, Thalia Field, C.S. Giscombe, Jonathan Skinner)
F127. The Experimental and the International. (Hilary Plum, Karen Emmerich, Scott Esposito, Steve Dolph, Anna Moschovakis, Jill Schoolman)
F137. Page Turners: Asian American Literature in the 21st Century. (V.V. Ganeshananthan, Manijeh Nasrabadi, Amitava Kumar)
Noon.-1:15 p.m
F150. Beyond Blackout and Whiteache: Poets Rewriting Race. (Ailish Hopper, Martha Collins, Thomas Sayers Ellis, Jake Adam York, Douglas Kearney)
F157. Kundiman from Community to Communities: Reaching out from the Writers' Retreat. (Jennifer Chang, Sarah Gambito, Margaret Rhee, Andre Yang, Neil Aitken, Tamiko Beyer)
1:30 p.m.-2:45 p.m.
F177. Finding Identity in Cultural Margins: A Reading and Discussion on Transracial Adoption. (Dana Collins, Jennifer Kwon Dobbs, Catherine McKinley, Lee Herrick, Precious Williams)
F178. Thinking Beyond the Book: The Future of Authorship and Publishing in a Transmedia World. (Jane Friedman, Guy Gonzalez, Kevin Smokler, Al Katkowsky, Christina Katz)
3:00 p.m.-4:15 p.m.
F188. The Dream the Dreamers Dreamed: A Tribute to Langston Hughes, Sponsored by Split This Rock Poetry Festival. (Sarah Browning, Derrick Weston Brown, Jericho Brown, Sonia Sanchez)
F197. Bodies Politic. (Barrie Jean Borich, Judith Barrington, Kekla Magoon, Ann Pancake, Ira SU.K.rungruang, Brian Teare)
F198. Ask Not What the Internet Can Do for You: Shifting Our Perspective on Internet Publishing as an Alternative to Major Market Publishing. (Ralph Pennel, Justin Maxwell, Ravi Shankar, Anmarie Trimble, Lizzie Stark, Max Magee)
4:30 p.m.-5:45 p.m.
F219. To Go Or Not To Go Abroad: Writers In A Global Market. (Peter Murphy, Ann Neelon, Christine Cutler, Martin Roper)
F222. A discussion and celebration of the work of the poet Ai, 1947-2010. (Lisa Lewis, Marilyn Chin, Major Jackson, Jeff Simpson, Eavan Boland, Charles Fort)
F224. Poet/Editors on Inclusivity and Race. (Rich Villar, Dan Chiasson, Don Share, Carmen Giménez Smith, Craig Santos Perez, Barbara Jane Reyes)
8:30 p.m.-10:00 p.m.
F228. A Reading by Junot Díaz, Sponsored by Georgia College & State University / Arts & Letters. (Junot Díiaz)
F229. Academy of American Poets Presents Claudia Rankine and Charles Wright.

Saturday | February 5, 2011
9:00 a.m.-10:15 p.m.
S104. Poetry of Resistance: Poets Take on Reasonable Suspicion (Arizona SB 1070). (Francisco X. Alarcón, Lorna Dee Cervantes, Odilia Galván-Rodríguez, Scott Maurer, Abel Salas, Hedy Garcia Trevino)
S109. Innovations, Migrations, and Translations: Contemporary Poetry in Tokyo. (Judy Halebsky, Kyong Mi Park, Yuka Tsukagoshi, Sawako Nakayasu, Holly Thompson, Mariko Nagai)
S115. Bangladeshi Fiction: A New Direction in South Asian Literature. (Ameena Meer, Gemini Wahhaj, Sharbari Ahmed, Jalal Alamgir, Javed Jahangir
S119. A Zephyr Press Poetry Reading with Bakhyt Kenjeev and Ouyang Jianghe. (Leora Zeitlin, Bakhyt Kenjeev, Jianghe Ouyang, J. Kates, Austin Woerner)
10:30 a.m.-11:45 a.m.
S124. Lucille's Gifts: A Tribute to Lucille Clifton, Poet and Teacher. (KC Culver, Michael S. Glaser, Theresa Sotto, Jayme McLellan, Lauri Watkins)
S140. The Poetry-Prose Dynamic, Internationally. (Carrie Etter, Toi Derricotte, Molly Peacock, Tim Liardet, Jill Bialosky)
Noon.-1:15 p.m
S145. Poetry as Multimedia Documentary. (Susan B.A. Somers-Willett, Kwame Dawes, Erika Meitner, Natasha Trethewey, Ted Genoways)
S159. The Asian American Writers' Workshop 20th-Anniversary Reading. (Ken Chen, Kimiko Hahn, Patrick Rosal, Jennifer Tseng, Marie Lee, Ed Lin)
S160. A Voice of Her Own: A Reading. (Reese Okyong Kwon, Alexander Chee, Tiphanie Yanique, Marie MutsU.K.i Mockett, Hasanthika Sirisena)
S162. Transformative Dialogues Between Writers of Color. (Alexs Pate, Quincy Troupe, David Mura, M. Evelina Galang)
1:30 p.m.-2:45 p.m.
S170. Undivided: Poet as Public Citizen, Sponsored by Split This Rock Poetry Festival. (Melissa Tuckey, Toi Derricotte, Martín Espada, Carolyn Forché, Mark Nowak)
S174. Lyric Poetry and the Archive. (Tung-Hui Hu, Brenda Hillman, Ann Fisher-Wirth, Brent Armendinger, Cody Walker, Megan Pugh)
S175. Kin: Mixed-Genre of Color. (Ahimsa Timoteo Bodhrán, Linda Hogan, Deborah A. Miranda, Ching-In Chen, Nancy Agabian, vaimoana litia makakaufaki niumeitolu)
3:00 p.m.-4:15 p.m.
S190. The Youth Voice Amplified: Poetry and Social Justice in the Classroom and Community. (Quraysh Ali Lansana, Georgia A. Popoff, Jackie Warren-Moore, Avery R. Young, Nandi Comer)
S197. Faith vs. the Avant-Garde: Spirituality and Innovation in Contemporary American Poetry. (G.C. Waldrep, Kazim Ali, Bhanu Kapil, Catherine Imbriglio)
S205. How a Poem Happens: Five Poets Explore How Their Poems Were Made. (Brian Brodeur, Bob Hicok, Dorianne Laux, Aimee Nezhukumatathil, Eric Pankey, Adrian Blevins)
4:30 p.m.-5:45 p.m.
S213. Outsiders Writing the Outside: A Reading of Wilderness Poetry by Women, Queer, and Minority Writers. (Keetje Kuipers, Aimee Nezhukumatathil, G.E. Patterson, Paisley Rekdal, Brian Teare, Ross Gay
S214. Story, Telling: Innovative Poetic Narratives. (Kathleen Ossip, Jennifer Moxley, Kate Greenstreet, Dawn Lundy Martin, Peter Covino, Susan Briante)
S220. Unembarrassed Poetry. (James Cihlar, Kristin Naca, Brenda Shaughnessy, Richard Siken, Alex Lemon)