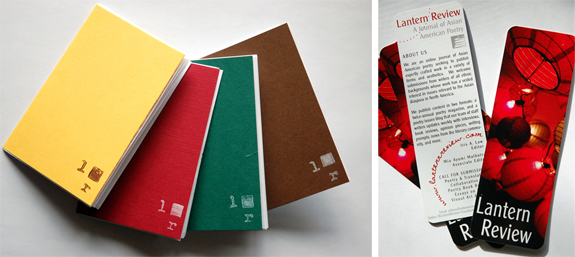 As we mentioned last week, the LR editors are gearing up for the 2010 AWP Conference with great excitement.  For those of you who will also be going, we thought we'd put together a list of panels and readings that we thought might be of special interest to readers and writers of Asian American poetry.  Come look for us, in particular, at Kundiman's Thursday panel and Wednesday off-site reading (co-sponsored with Cave Canem).  If you check out the bookfair, you'll also be able to find us (and our materials) at the Kundiman/Alice James Books table.
The Lantern Review Guide to AWP 2010
Recommended events of potential interest to LR readers
* * *
Wednesday
Off-Site Events:
7:00PM-10:00PM AHSAHTA / OMNIDAWN READING
Location: The Magnolia Hotel Ballroom, 17th & Stout (Only 3 blocks from the Colorado Convention Center.)
Cost: No charge for the event.
Please join Ahsahta Press and Omnidawn Publishing for a reading. The readers will be: Christopher Arigo, Susan Briante, Dan Beachy-Quick, Maxine Chernoff & Paul Hoover, Gillian Conoley, Ben Doller, Lisa Fishman, Noah Eli Gordon, Richard Greenfield, Janet Holmes, Hank Lazer, Laura Moriarty, Rusty Morrison, G.E. Patterson, Craig Santos Perez, Bin Ramke, Don Revell, Elizabeth Robinson, Heather Sellers, Heidi Lynn Staples, Michelle Taransky.
8:00PM-11:00PM Cave Canem/Kundiman Reading & Salon
Location: Mercury Cafe, 2199 California Street, Denver, CO 80205; (303) 294-9281
Cost: $3 suggested donation — to benefit Cave Canem & Kundiman (no one turned away for lack of funds)
Website: http://www.facebook.com/event.php?eid=474228325544&ref=ss
Join the Cave Canem & Kundiman Families for a Reading Featuring Toi Derricotte, Sarah Gambito, Cornelius Eady, Oliver de la Paz, Dawn Lundy Martin & Kazim Ali + a salon featuring Cave Canem and Kundiman fellows & family (bring a poem to share!)  Emceed by Ching-In Chen & Tara Betts.
Thursday
9 AM to 10:15 AM
R117. Decolonial Poetics: Womanist, Indigenous, and Queer Poets of Color on the Art of Decolonization. (Ahimsa Timoteo Bodhrán, ku'ualoha ho'omanawanui, Lorenzo Herrera y Lozano, Susan Deer Cloud, Ching-In Chen, Lisa Suhair Majaj)
R121. The Online MFA: An Innovative Alternative to the Resident and Low-Resident MFA. (Lex Williford, Daniel Chacón, Sasha Pimentel Chacón, José de Piérola)
10:30 AM to 11:45 AM
R124. Bollywood, Bullets, and Beyond: The Poetry of South Asian America. (Summi Kaipa, Pireeni Sundaralingam, Ravi Shankar, Bhanu Kapil, Subhashini Kaligotla, Monica Ferrell)
Noon to 1:15 PM
R148. Kundiman: Love Songs and Leaps of Faith. (Vikas Menon, Jennifer Chang, Matthew Olzmann, Sarah Gambito, Rick Barot, R.A. Villanueva)
R155. Women & Nature, Thirty Years Later: Our Evolving Otherness. (Rusty Morrison, Mei-mei Berssenbrugge, Sarah Gridley, M.L. Smoker, Melissa Kwasny, Alena Hairston)
R167. Tribute to Mahmoud Darwish. (Fady Joudah, Yusef Komunyakaa, Marilyn Hacker, Michael Collier, Khaled Mattawa)
1:30 PM to 2:45 PM
R170. Wesleyan University Press Poetry Reading. (Stephanie Elliott, Roberto Tejada, Adrian Blevins, Musharraf Ali Farooqi, Tan Lin, Kazim Ali)
R172. CLMP Panel—Lit Mags in the Classroom: Literary Journals in Creative Writing Curricula. (Jay Baron Nicorvo, Carolyn Kuebler, Thisbe Nissen, David Lynn, Kimiko Hahn)
R176. (WITS Alliance) Journey to Identity: Teaching Creative Writing to Immigrant Students. (Long Chu, Jose Luis Benavides, Margot Fortunato Galt, Ellen Hagen, Merna Ann Hecht, Sehba Sarwar)
R184. How to Start Your Own Online Literary Magazine: Five Editors Tell All. (Rebecca Morgan Frank, Michael Archer, Thom Didato, Gregory Donovan, Ravi Shankar)
R189. Poetry, Race, Ethnicity: A Conversation. (Lynne Thompson, Martha Collins, Susan Deer Cloud, Rigoberto Gonzalez, Fady Joudah, Frank X Walker)
4:30 PM to 5:45 PM
R223. Orbiting Salt: A Quarterly West / Western Humanities Review / Barrelhouse / Versal Reading. (Dawn Lonsinger, Cris Mazza, Alan Michael Parker, Sawako Nakayasu, Blake Butler)
R234. The Poetry Society of America Centennial Celebration: 100 Years of American Poetry. (Alice Quinn, Matthew Zapruder, Jean Valentine, B.H. Fairchild, Joy Harjo, Kimiko Hahn, Cyrus Cassells, Diane Wakoski, Gary Young)
Off-Site Events:
8:00PM-10:00PM Alice James Books and Four Way Books Reading
Location: Common Grounds Downtown Coffee, 1550 17th St, Denver, CO
Cost: free
"Lightning Flash" readings by Alice James Books and Four Way Books authors: Kathleen Sheeder Bonanno, Joanna Fuhrman, Frank Giampietro, Kevin Goodan, Tom Healy, Meg Kearney, David Dodd Lee, Lesle Lewis, Mihaela Moscaliuc, Jamie Ross, Chad Sweeney, Sandy Tseng, and Monica Youn
8:00PM-9:30PM Wild Lives / Raucous Pens: Readings from Terrain.org and Hawk & Handsaw
Location: Adirondacks Room, The Tivoli at Auraria Campus
Cost: Free
Website: http://www.terrain.org/docs/…
Terrain.org editor Simmons Buntin and Hawk & Handsaw editor Kathryn Miles host short readings by Patrick Burns, Alison Hawthorne Deming, Scott Elliott, James Engelhardt, Suzanne Frischkorn, Andrew Gottlieb, Luisa Igloria, John T. Price, Ben Quick, Suzanne Roberts, Jeffrey Thomson, and Arianne Zawartjes. Reception featuring free beer/wine begins upstairs at 7:30 p.m.
Friday
9:00 AM to 10:15 AM
F111. Hybrid Aesthetics and Its Discontents. (Mark Wallace, Arielle Greenberg, Craig Santos Perez, Michael Theune, Megan Volpert)
F118. One Never Know, Do One?: Identity vs. Aesthetics in Contemporary Poetry of Color. (Adrian Matejka, Sherwin Bitsui, Douglas Kearney, Matthew Shenoda, Lyrae Van Clief-Stefanon)
10:30 AM to 11:45 AM
F127. Translating LGBTQ Writers and Writing. (John Keene, Jen Hofer, Timothy Liu, Nathalie Stephens)
F137. Justice, Community, and The Republic of Poetry. (David Mura, Martín Espada, Tara Betts)
Noon to 1:15 PM
F148. Writing South Asia—Issues of Representation and Identity. (Samrat Upadhyay, Rishi Reddi, Ru Freeman, Anis Shivani, Gemini Wahhaj, Oindrila Mukherjee)
F161. West By Midwest: Women Writers Crossing the 100th Meridian. (Vivian Wagner, Kyoko Mori, Debra Marquart, Joy Passanante, Jane Varley, Jonis Agee)
F163. The Prince of the Face: Translating Mystical Poetry from Middle Eastern Sources. (Sheri Allen, Sidney Wade, Willis Barnstone, Haider Al-Kabi, Betty De Shong Meador)
F165. Poets as Legislators: Bearing Visions in Private and in Public. (Luisa Igloria, Cathryn Hankla, Anita Skeen, Meg Kearney, Daniel Tobin, Sandra Meek)
F169. Gurlesque Poetry: A Reading. (Lara Glenum, Cathy Wagner, Dorthea Lasky, Danielle Pafunda, Cathy Park Hong, Elizabeth Treadwell)
1:30 PM to 2:45 PM
F191. Honoring the Sandhill Crane Migration Annual Literary Tribute. (Allison Hedge Coke, Sherwin Bitsui, Cristina Eisenberg, Wang Ping, Jim Wilson, Laura Tohe)
3:00 PM to 4:15 PM
F194. From the Fishouse: A Reading of Poems that Sing, Rhyme, Resound, Syncopate, Alliterate, and Just Plain Sound Great. (Jeffrey Thomson, Major Jackson, Gabrielle Calvocoressi, Erika Meitner, Oliver de la Paz, Adrian Matejka)
F198. Immigrant Poetry: Aesthetics of Displacement. (Gene Tanta, Jenny Boully, Johannes Goransson, Ramona Uritescu-Lombard, Andrei Guruianu, Uche Nduka)
F202. University of Utah Faculty and Student Reading. (Paisley Rekdal, Lance Olsen, Melanie Rae Thon, David Baker, Lynn Kilpatrick, Connie Voisine)
4:30 PM to 5:45 PM
F223. Transnational Identities: Asian American Writers & Asia. (Bryan Thao Worra, Ed Bok Lee, David Mura, Yuko Taniguchi, Wang Ping, Kao Kalia Yang)
F224. In a Place of Bones: Indigenous Place-Based Writing. (Ahimsa Timoteo Bodhrán, Linda Hogan, Deborah A. Miranda, ku'ualoha ho'omanawanui, Elaine Chukan Brown, Lorenzo Herrera y Lozano)
Off-Site Events:
6:00PM-10:00PM Counterpath Press and Letter Machine Editions Reading
Location: Mercury Cafe, 2199 California Street, Denver, CO 80205; (303) 294-9281
Cost: Free; Full restaurant and bar
Featuring: Brenda Hillman, Laynie Browne, Forrest Gander, Mei-Mei Berssendbrugge, Carol Snow, Barbara Freeman, Cole Swensen, Gillian Conoley, Stephen Ratcliffe, Martha Ronk, Paul Hoover, Travis Nichols, Aaron Kurin, Juliana Leslie, Farid Matuk, Peter Gizzi.
6:30PM-8:30PM CSU Poetry Center & The University of Akron Press Poetry Reading
Location: Paris on the Platte Cafe & Bar
Cost: Free admission, Cash Bar
Please join us for readings by Allison Benis White, John Bradley, Ashley Capps, Oliver de la Paz, Heather Derr-Smith, David Dodd Lee, Elyse Fenton, John Gallaher, Beckian Fritz Goldberg, Helena Mesa, Mathias Svalina, & Allison Titus. Come by table A22 to pick up your invitation and map.
7:30PM Switchback Books hosts Artifice Mag, Coconut, and Tarpaulin Sky Press
Location: Delaney's Bar/Celtic Tavern, 1801 Blake St.
Website: http://www.celtictavern.com/modules/wfchannel/
Readings by Simone Muench, Monica de la Torre, Kathleen Rooney, Gina Myers, Davis Schneiderman, Marisa Crawford, Kim Gek Lin Short, Andrew Farkas, Shelly Taylor, David Welch, Tim Jones-Yelvington, Kimiko Hahn, Bruce Covey, Jen Tynes, and Amber Nelson. $3 beer specials and 17 beers on tap.
9:00PM-MIDNIGHT WILLA (Women in Letters and Literary Arts) Goes Live: A Benefit Evening of Burlesque, Literature and Roller Derby
Location: The Denver Press Club, 1330 Glenarm Place
Cost: $10
Burlesque Performers Vivienne VaVoom & Cora Vette, both of Black Box Burlesque, join Readers Kim Adinozzio, Mary Akers, Erin Belieu, Ana Bozicevic, Jami Brandli, Barrie Jean Borich, Nickole Brown, Kara Candito, Mary Cappello, Ashley Capps, Jennine Capó Crucet, Carolyn Forche, Ru Freeman, Lara Glenum, Cathy Park Hong, Olivia Johnson, Lynn Kilpatrick, Amy King, Dorianne Laux, Roxanne Banks Malia, April Manteris, Cate Marvin, Carol Muske-Dukes, Antonya Nelson, Danielle Pafunda, Ann Pancake, Jennifer Park, Carmen Gimenez Smith, Patricia Smith, Susan Steinberg, Cheryl Strayed, Ann Townsend, Emily Warn, and Leni Zumas.
Saturday
9:00 to 10:15 AM
S103. Don't You Hear This Hammer Ring? Socially Engaged Poetry in the Age of Obama. (Sarah Browning, Regie Cabico, Melissa Tuckey, Naomi Ayala, John Murillo)
S105. Siren Songs From Across the Seas: Women Poets in Translation. (Henry Israeli, Forrest Gander, Susanna Nied, Sawako Nakayasu, Kristin Dykstra)
10:30 AM to 11:45 AM
S129. From Bombs to Bindis: Trends and Tensions in S. Asian Diaspora Writing. (Mary Anne Mohanraj, Shilpa Agarwal, Roohi Choudhry, Minal Hajratwala, Mrigaa Sethi, Padma Viswanathan)
S131. Writing Hawaii's Settler History. (Keala Francis, Ida Yoshinaga, Brandy Nalani McDougall)
S132. Re-writing America: Complicating the Poetics of Identity. (Neelanjana Banerjee, Hayan Charara, Samantha Thornhill, Ching-In Chen, Tim Hernandez, Summi Kaipa)
S138. jubilat 10th Anniversary Reading. (Robert Casper, Dara Wier, Lisa Olstein, Jen Bervin, Peter Gizzi, Cathy Park Hong)
Noon to 1:15 PM
S145. Reading from The Ecco Anthology of World Poetry. (Susan Harris, Ilya Kaminsky, Valzhyna Mort, Ellen Dore Watson, Zhang Er)
S155. The Western Landscape in Contemporary American Poetry. (Haines Eason, Oliver de la Paz, Alison Hawthorne Deming, Gabrielle Calvocoressi, C. Dale Young, Paisley Rekdal)
S164. Nation of Immigrants?: Spoken Word Artists Question the World. (Thien-bao Phi, Tish Jones, Diego Vazquez, Marcie Rendon, Robert Farid Karimi)
1:30 PM to 2:45 PM
S165. Writing Beyond Race. (Veronica Gonzalez, Lara Stapleton, Gina Apsotol, Carl Hancock Rux)
S167. Both Sides of the Mouth: Teaching Bilingual Workshops. (Cheryl Klein, Daniel Chacón, Tim Hernandez, Naomi Hirahara)
S168. No More Lip Service: Three Successful Community Literary Programs. (Ross Talarico, Thien-bao Phi, Douglas Unger)
3:00 PM to 4:15 PM
S204. Poets in the World: Building Diverse Communities through Independent Poetry Centers, Blogs, and Radio. (Norton Camille, Barbara Jane Reyes, Oscar Bermeo, Jan Beatty, Tim Kahl, Susan Kelly-DeWitt)
S205. University of Arizona Poetry Center's 50th Anniversary Reading. (Gail Browne, Carolyn Forché, Mónica de la Torre, Alison Hawthorne Deming, Peter Gizzi, Akilah Oliver)
4:30 PM to 5:45 PM
S207. Poetry and New Media: A Users Guide. (Katharine Coles, Wyn Cooper, Kate Gale, Alberto Ríos, Monica Youn)
* * *