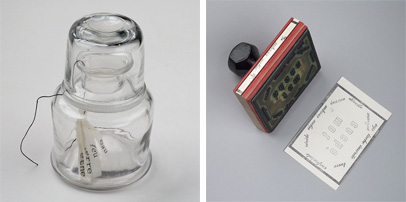 This week's prompt is inspired by some of the visual poetry work done by Theresa Hak Kyung Cha (1951 — 1982), a Korean American artist and poet who experimented with film, mixed media, intertext, and live performance to push her audience's experience of the written word in radical directions.  Cha lived an incredibly productive, but tragically brief life: at the age of 31, she was murdered by a stranger in New York City.  Her much-studied book of hybrid poetry, prose, and image, Dictee, was published a week before her death.
One of the things that interests me most about Cha's body of work is her experimentation with the book as object.  On many occasions (as in the two pieces pictured above), she made use of objects other than the standard book format in order to demonstrate a kind of poetic.  The forms and physical textures of the (often handmade) media with which she presented words in these pieces creates a process-oriented experience for the observer, in which we see and can feel the labor required to produce each piece of text.  The text itself, too, has a physical quality to it.   In the "untitled" piece above, it dangles almost precariously on wire, trapped halfway in a glass jar (the words read "water," "fire," "earth" . . . and something which I can't quite make out . . . in French).  We sense the microcosmic nature of language — it becomes a flimsy, yet beautiful item that constitutes our world.
Prompt: Create a poem designed to be presented as a 3-d object.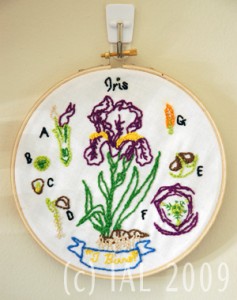 The piece I'm sharing with you here is actually a project I created for a contemporary poetry class last year: we were supposed to create an archaism, and I decided to use the technique of embroidery, along with nineteenth century / early twentieth century botanical diagrams and mottos from the language of flowers, to reflect on the idea of a curated representation of self (the work, obviously, is a pun on my name; the antique language of flowers handbook that I used indicated that the Iris used to convey the message "I Burn [for you]").  This, when combined with the sexuality of the plant's anatomical structures (a flower is a plant's reproductive organ), and the traditionally gender-bound craft of decorative embroidery, I hope — forms a reflection on gender, artifice, craft, and time.
To see more works by Cha, visit the BAM/PFA online archive.
As always, please do feel free to share your experiments on our Flickr pool. Happy Weekend! (Don't forget to think about an entry for our prompt contest!)