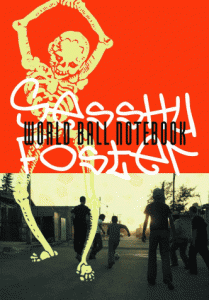 We mentioned Sesshu Foster's award-winning collection World Ball Notebook  back in November, when we did a post about the winners of the 2009 Asian American Literary Awards.
Well, it's recently come to our attention that the magazine/blog Molossus, which bills itself as "an online broadside of world literature," has posted a lovely conversation with Sesshu and is offering its readers a chance to win a free copy of World Ball Notebook in partnership with City Lights (winner to be announced this Wednesday, Dec. 16th). 
We loved what Sesshu had to say about using elements of indigenous heritage as "political and social iconography and ideology" rather than as "ethnography."  Here's an excerpt:
Our identity as Americans, as citizens of whatever it may be, is collectively bound up in on-going discourse and dialogue about our relations, our culture and history. Times change, and we can't recycle categorical definitions of ethnic character that are forty years old any more than we can recycle racist assumptions about the self from the 19th century. People do, of course, but writers are supposed to be hipper than that, more up to date.
To read more of the interview or to enter the giveaway, head on over to Molossus and check out their full post: "Atomik Aztek: A Conversation with Sesshu Foster + Book Giveaway!" [on Molossus]