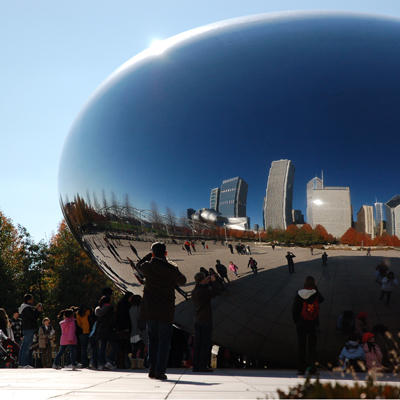 Over Thanksgiving weekend, I went into Chicago with a few friends, and decided to use the opportunity to try out the downtown portion of the Poetry Foundation's Chicago Poetry Tour.  My companions very graciously agreed to take the tour with me—no small feat, considering that it's a 45-minute walking tour, and a few of them were dragging rolling luggage with them the whole time!  Much to our delight, it ended up being a very pleasant experience for all of us.  In particular, one of our number had never been to Chicago before, so it was a perfect way to show him pieces of the Loop.  But even for those of us who were more familiar with the city, it was wonderful to see the neighborhood around Millennium Park from a different perspective.   The downtown portion of the tour (which is the main tour listed on the web site) takes you almost straight down Michigan Avenue (perfect for us, since our train into the city disembarked at Randolph Station), and then turns west and ends a bit more inland.  It works like this: before going to Chicago, you download the audio file containing the guide, and a map (not necessary, but interesting/helpful if you're one of those directionally challenged people like me who needs to know exactly where you are in reference to the rest of the neighborhood at every minute) from the Poetry Foundation's website.  The audio is a single track, and is available in either mp3 or mp4.  You then put the audio file on your portable music device, and turn it on whenever you reach the tour's start point (The Chicago Cultural Center, at 78 E. Washington).  From there, you follow the audio as it guides you through six different stops of interest (pausing whenever you want to explore a shop, get food, or look at something else along the way— the audio even recommends doing this at several points in the narration), and end up at the Harold Washington Library (400 S. State St), which is conveniently located next to a CTA stop.
There were several things that I really enjoyed about this tour.  The first is that it really gave me a new way to see the city.  I loved walking in and out buildings and hearing not only about their histories, but about the literature that has surrounded them.  Even walking down blustery Michigan Ave. and hearing a poem about the wind lifting the hats (I think?) off the heads of tourists was an extremely vivid experience.  I think one's normal experience of Michigan Ave. is a sense of thrill at being in a big city, surrounded by fancy buildings and tall skyscrapers and the wonderful waterfront park.  It's a lot of lights and starry-eyed romance.  But so much of the history behind it all gets lost.  I'd say that the second thing I enjoyed about the tour is that it took us into the buildings themselves, which are filled with literary legacies, and even more gorgeous inside than they are outside.  As one of my companions later pointed out, one would normally never have thought to go into the Chicago Cultural Center (with its gorgeous Tiffany glass rotunda), or into the Fine Arts Building (with its awesome elevator and its paneled halls—I enjoyed imagining Frank Lloyd Wright and Carl Sandburg walking through the corridors).  But the tour took us there.  And being in the heart of some of these buildings had a kind of magic of its own.  I felt that I was somehow being let into a brilliant, but well-kept secret.  Finally, I really appreciated the audio narration's very clear, detailed directions.  I am extremely bad at navigating in a city, and would probably have gotten lost if the audio had simply told me to direct myself using the map.  As it was, the narrator would direct me to "turn left" after it an appropriate amount of time had passed, or to "look for this building across the street" and "cross here."  If I found myself a little ahead of the directions, I just had to pause until I reached the next specified corner, and then turn it back on.  If the directions lagged behind,  I could just stop for a minute and wait for them to catch up.
There were also some disappointments about this tour (relatively few, but still some).  One was that, because (as the narration recommends for obvious safety reasons) I had the audio turned down relatively low whenever on the street, and because most of the tour actually takes place outside, I found it very difficult to hear or to concentrate on the poems being read as I walked between stops.  Perhaps a person with a better attention span than myself could have done it more easily, but between reading street signs, communicating with my companions, and hearing the traffic rush by, I found that it was almost impossible to fully focus on what was being said (especially since some of the readers on the recording used a slightly softer, performative tone of voice).  This was really a bummer, as the poetry had been the part of the tour that I was looking forward to the most!  I was not alone in this, either.  My companions also found it difficult to concentrate on the narration.  In fact, they eventually stopped listening to the audio between stops and ended up relying on me to tell them where to go next.  Perhaps it would've been better to pause and then to wait until I was inside the next building to catch myself up.  But then I would have missed hearing crucial directions, which would not have been good, either.  Another disappointment was that the last stop on the tour, the Harold Washington Library, was closed on the day that we were there (since it was the Friday after Thanksgiving), so we were not able to complete the last section (although I finished listening to the audio anyway).  I do wish that the Poetry Foundation had put a note on the site letting us know that some of the tour would take place inside public buildings, or that I had thought to check whether all of those buildings would be open when we planned to be in Chicago.  If you do try out the tour yourself, definitely take this extra planning step before heading out to the city.  I can't tell you how disappointing it was to get to the last stop and find it all dark and locked up.
A few more recommendations.  First, do check the weather before you attempt the tour.  For a late November day, the morning on which we took the tour was gorgeous (40-50 degrees and sunny).  As we are all 20-something-year-old graduate students, we didn't much mind the cold.  But I could see the tour (most of which is outdoors) being absolutely miserable in the depths of winter, especially if you plan to bring children or more elderly adults along with you.  Even on the day we went, the wind really began to nip at us after a while, and we were all very grateful to walk into the warm subway station afterward.  Perhaps late spring or early summer would have been a more optimal time of year to take the tour.  Secondly, pack light.  It's only 45 minutes, but it is all walking. My friends, who were carrying their luggage (their hostel was in Lincoln Park, so we'd thought we would take the tour before heading out there to check them in), found it a bit awkward to maneuver in and out.  In particular, the part of the tour that's in the Fine Arts Building recommends that you walk down 10 flights of stairs to better experience the interior architectural details.  Obviously, that would have been kind of hellish with luggage. So we took the elevator—which is cool, anyway, because it's old-fashioned and has no inner door so that you see all the floors rushing past, and has an operator sitting inside.  If you have small kids, a lot of bags, or not enough time to walk down 10 flights, please save yourself the trouble and take the elevator.  Finally, feel free to stray a bit (hitting "pause" until you come back to where you left off), and take advantage of the points on the tour when they recommend that you pause and check something out.  We didn't have enough time to go inside the Art Institute's galleries because we hadn't planned on it, and ended up just visiting the museum shop.  We did stop into Millenium Park and took photos by the Bean sculpture, which was totally worth it.  But if I'd known the Art Institute would be on the tour ahead of time, I would have made plans to see the galleries, too, and I definitely recommend that you do so if you go.  Their collections are purportedly amazing.
Finally, if you can't make it to Chicago to take the tour in person, the Poetry Foundation also has a virtual version of the tour in its web site.  Not the same as being physically inside the buildings themselves, but also very cool— especially the feature that allows you to choose from a list of the poems and poets featured in the audio.
So that you can get a feel for the beauty of the buildings included on the tour, here are some photos I took at the various stops.
Stop 1: Chicago Cultural Center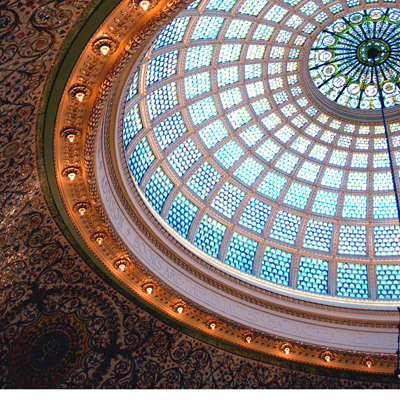 Stop 2: Art Institute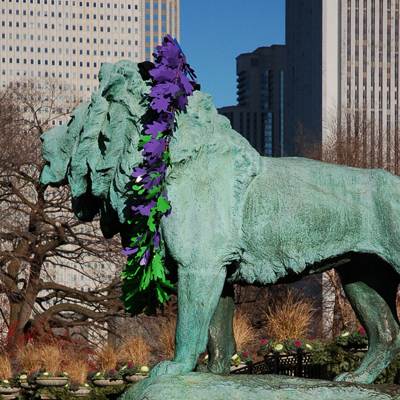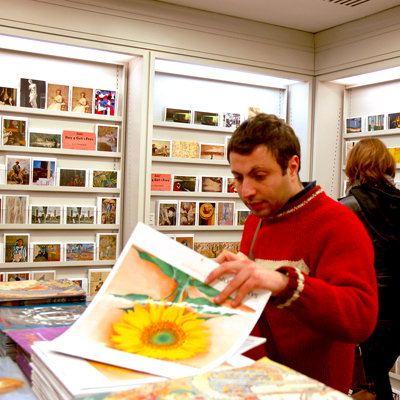 Stop 4: Fine Arts Building (and its amazing elevator!)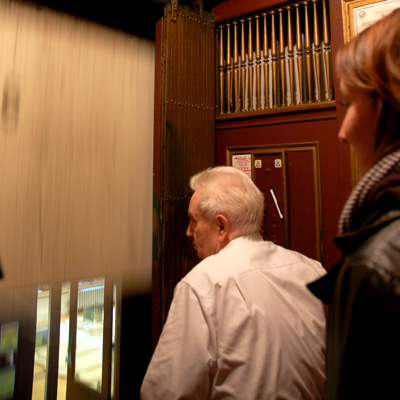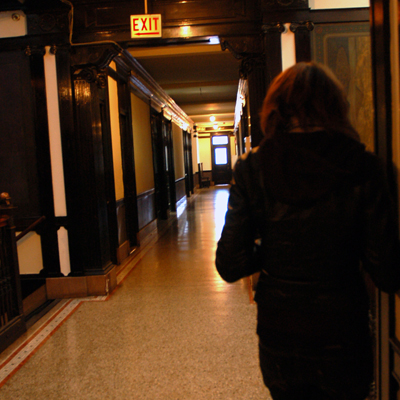 Stop 6: Harold Washington Library (exterior; the building was closed)
Despite the minor disappointments that I mentioned earlier, the tour was all in all a lovely experience, and I am definitely eager to return to the city later this school year in order to try out the other portions of it (perhaps when the snow begins to melt).