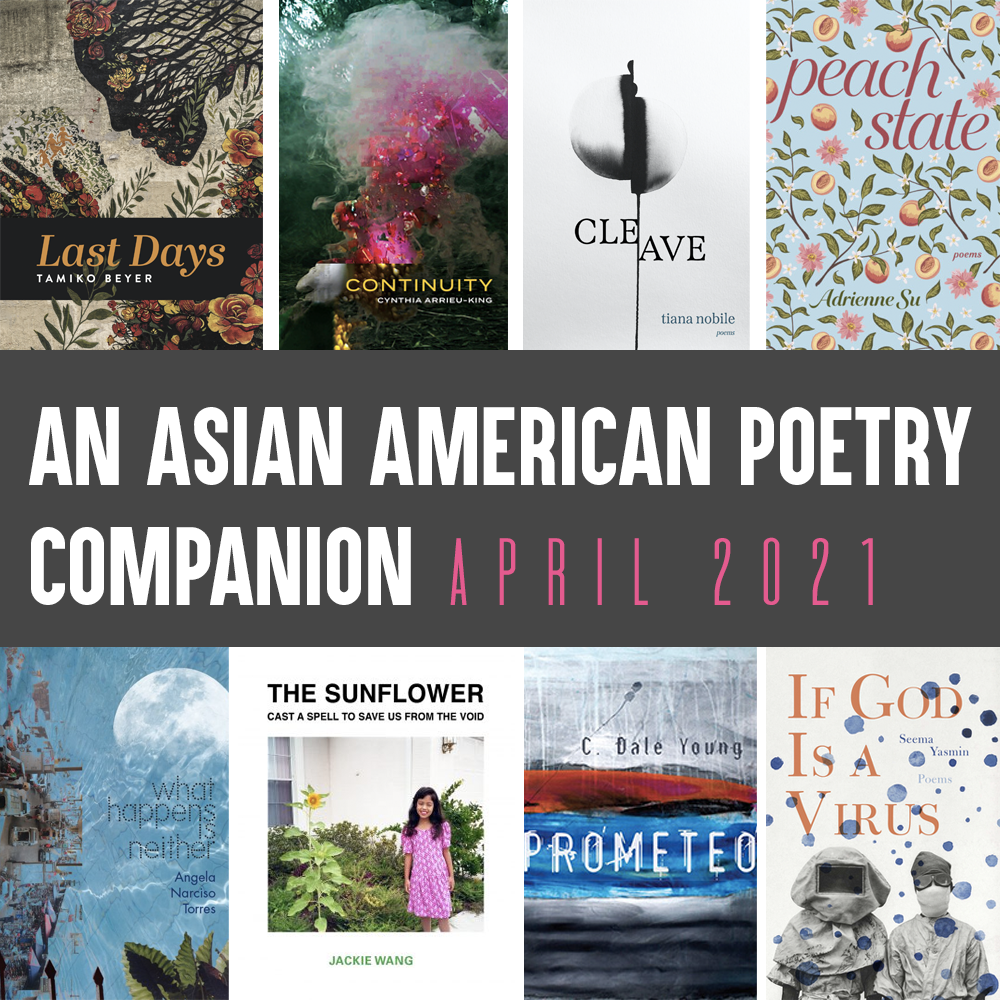 It's a heavy time to be celebrating National Poetry Month. In the face of continued violence, our Asian American community aches. And yet, as our guest editor this season, Eugenia Leigh, shared on Twitter with regard to our theme for the season, "The racist hate crimes against Asian Americans don't get to silence us. We get to define what #AsianAmericanFutures looks like." If the wealth of new poetry titles by Asian American writers hitting the shelves this year is any indication, then the future of Asian America looks bright. Poetry as resistance, as resilience, as vision, as voice, as witness, as document, as radical care, as light—that alone is something to celebrate.
* * *
FEATURED PICKS:
Cynthia Arrieu-King, Continuity (Octopus, April 2021)
Cynthia Arrieu-King has not one, but two new books out this spring. In addition to her lyric essay, The Betweens (Noemi, March 2021), her latest collection, Continuity, hits shelves this month. Arrieu-King has observed that she envisions Continuity as the second half of a "double album." While her previous collection, Futureless Languages, looks ahead, Continuity dips into the past, excavating histories of war and inherited trauma. Laura Jaramillo describes the poems in the collection as "sonically soft and visually holographic, sensorially pleasurable and richly melancholy." If you've enjoyed Arrieu-King's previous books as much as I have, then Continuity is sure to be a title you won't want to miss.
Tamiko Beyer, Last Days (Alice James, April 2021)
Our theme for the season is "Asian American Futures," a notion that issue 1 contributor Tamiko Beyer's newest collection, Last Days, embodies wonderfully. Featuring a group of charismatic young revolutionaries and their struggle to navigate a post-apocalyptic world, Last Days celebrates hope, resilient joy, and the beauty of human interconnectedness. Beyer writes with the deep tenderness, empathy, and breathtaking lyric clarity that is a hallmark of her work. I had the chance to preview the collection earlier this year, and it's been one of my favorite reads of 2021 so far.
Tiana Nobile, Cleave (Hub City, April 2021)
The title of Tiana Nobile's first collection, Cleave, is a contranym—a choice that, per the Southern Review of Books's interview with the author, nods to the complexity of her experience as a transnational adoptee. Accordingly, Cleave mixes research with personal history to interrogate the legacy of transnational adoption. The result, writes Cathy Park Hong, is a "mythic origin story that is beautiful, melancholic and powerful." I've enjoyed reading individual pieces from Nobile's project in the past and admire the way she's combined meticulous craft with an unflinching sense of vision. Now that Cleave is finally out in the world, I can't wait to dig into the collection in its entirety!
* * *
MORE NEW AND NOTEWORTHY TITLES:
Adrienne Su, Peach State (U of Pittsburgh, March 2021)
Angela Narciso Torres, What Happens Is Neither (Four Way, February 2021)
Jackie Wang, The Sunflower Cast a Spell to Save Us From the Void (Nightboat, January 2021)
Seema Yasmin, If God Is a Virus (Haymarket, April 2021)
C. Dale Young, Prometeo (Four Way, February 2021)
* * *
We hope you'll consider giving one of these books a read this month. As always, if you are able, we encourage you to support small presses and local independent bookstores (especially BIPOC-owned bookstores) with your purchases. And we'd love to hear from you! What Asian American poetry books are on your radar this April? Share your recommendations with us in the comments or on Twitter, Facebook, or Instagram (@LanternReview).
---
ALSO RECOMMENDED
Sonia Sanchez, Collected Poems (Beacon, 2021)
Please consider supporting an independent bookstore with your purchase.
As an Asian American–focused publication, Lantern Review stands for diversity within the literary world. In solidarity with other communities of color and in an effort to connect our readers with a wider range of voices, we recommend a different collection by a non-Asian-American-identified BIPOC poet in each blog post.