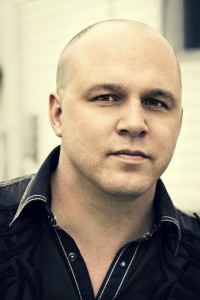 Matthew Olzmann is the author of Mezzanines (Alice James Books), selected for the 2011 Kundiman Prize. His poems have appeared in New England Review, Kenyon Review, Gulf Coast, The Southern Review and elsewhere. He's received fellowships and scholarships from the Kresge Arts Foundation, The Kenyon Review Writers Workshop, and the Bread Loaf Writers' Conference. Currently, he teaches at Warren Wilson College and is the poetry editor of The Collagist.
* * *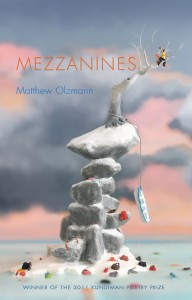 LR: Some of the most pervasive themes that Mezzanines deals with are place, identity, and faith, all in the context of mortality. Can you talk about the relationship between mortality and some of the specific places, identities, and beliefs you grapple with in the book?
MO: I've heard it said that most of literature, in some way, grapples with only one question: what does it mean to be alive? I'm probably not capable of answering that question, but if the idea of mortality hangs over a lot of these poems, it's because I often get stuck thinking in binary terms; I get at things by considering their opposites. What does it mean to be alive? Not a clue. What does it mean to not be alive? Now I'm sufficiently terrified. What I'm saying is I tend to be the type of writer who understands the dark only by flicking the lights on and off a couple dozen times. I understand the deep end of the pool by splashing through the shallow side. I know Eden is paradise only when I'm banging against the gate from the wrong side.
LR: Mezzanines is full of unlikely juxtapositions and contradictions; for example, the interplay between high literature and the intensely personal and emotional in "The Tiny Men in the Horse's Mouth" or the pairing of sci-fi pop culture with a meditation on racial identity in "Spock as a Metaphor for the Construction of Race During My Childhood." What are your thoughts on contradiction and juxtaposition as poetic strategies? As the aforementioned poems appear side by side in the book, can you explain how they relate to one another?
MO: I'm interested in making connections between various points, in metaphor as a device that makes something abstract more tangible. As such, I'm constantly looking at things that might not overtly belong together, and I'm trying to find correspondences among those dissimilarities.
In trying to organize the book, I initially arranged the poems a little bit more thematically: here are the love poems, the poems about identity, the poems about weird stories from the news, etc. However, those thematic clusters quickly began to feel artificial and predetermined. So I deliberately broke them up and tried to spread them out over the book, hoping those threads that were related in terms of "content" would echo and speak to each other across the length of the book rather that exist back-to-back as next-door neighbors. I began thinking of the order "tonally," and those two poems—while apparently dissimilar in terms of subject matter—felt similar in terms of tone and perspective, both in their movement from humor to emotional crisis, and from an outward gaze to internal reflection.