The Bugging Watch & Other Exhibits by Kim Gek Lin Short | Tarpaulin Sky Press 2010 | $12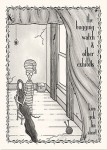 Within the first three pages of Kim Gek Lin Short's The Bugging Watch & Other Exhibits, we find "ten thimble-sized hats he had knitted out of cockroach legs," "the kitchen bloody with her blood or bloody with knifeblood or bloody with the stenciled blood of everlasting sleep" and "pelvis squeaking miracles." Here is Toland, whose "body like a ball of yarn unwound and fell from the bed into the basement, from the basement into the drain, and met with many accidents, where it did touch many things" (5).
Short's character Toland reminds me of Sally from Tim Burton's The Nightmare Before Christmas, who jumps from a window of a tower to escape her confinement by a mad scientist (father? employer? lover?) and then takes out a needle and sews her limbs back together. She reminds me of the film Coraline based on Neil Gaiman's novel. She reminds me of the ballet Coppélia, based on the stories The Sandman and The Doll by ETA Hoffman, about a man who makes a doll come to life (and the friend who mistakes his automaton for a human being). Scenes from at least ten creepy X-Files episodes about killer cockroaches and child molesters flashed through my mind as I read.
So Toland untangled her head from her body and piled it like plumbing in a nest of pot. As Harlan wept up a rainstorm into Toland's pipes of hair the tiny book became so meaningful all its words were smudged (12).
This book opens with a series of exhibits. Each is like a mason jar containing fermented chimeras, from which threads are extracted and grafted onto balloons, umbrellas, pajamas, leotards and cake, then sewn up with special needles. Breaking the seal of each jar unleashes a particular scent and stench, whose particles attach to your nose hairs. Reading each exhibit is like reading a segment of knitting, with the over and under and the accidental mis-stitch, with its density and breath and porous fabric. Each exhibit is a door, "opened in the afternoon always inside her a window" (25). Continue reading "Review: Kim Gek Lin Short's THE BUGGING WATCH AND OTHER EXHIBITS" →