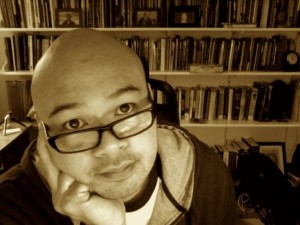 In celebration of APIA Heritage Month, we're continuing our annual tradition of asking respected teachers and writers of Asian American poetry to share favorite writing exercises with us on successive Fridays during May. This week's installment was contributed by Oliver de la Paz.

When you're a parent of three children under the age of 6, you have to be very deliberate in finding time for yourself to commit to the page. My family lives in the country, and it's a 40-minute commute from my house to the doorstep of my workplace. In addition, all my children are in daycare. You'd think that having the kids in daycare would afford me some time, but it doesn't. When they're in daycare, I'm either teaching, thinking about teaching, preparing to teach, or administrating on some committee that has to do with teaching. Needless to say, my writing time comes in pockets. Slivers. Little flares. My relationship with the page is no longer routinized. I used to have ample time to dedicate to writing, but that was before children. Now my writing time is broken down into excursions. Mini-trips. Little rendezvous. I understand that this is my life and rather than succumb to long silences, I challenge myself everyday, to think about a poem. In order to cope with my hectic schedule, I developed a process that fosters obsession.
An obsession is not a terrible thing to have when you're a writer. It can be a motivator—generative beacon. I try to dedicate increments of five to ten minutes throughout the day to the composition of a line. I also attempt to write a line every hour for fourteen hours, so by the end of the day I have a sonnet-length collection of lines. My poem "Requiem for the Orchard" was composed under these particular conditions. During the hectic weeks of Christmas vacation (who'd have thought Christmas vacation would be hectic?) I had a sense that I needed to craft a "spinal" poem for a collection of poems I had nearly completed.
During the Kundiman Retreat in 2007, I assigned the Kundiman Fellow cohort the following assignment. I give it to you now:
1) Write a single line every hour. Write no more than a line. Even if you feel you wish to write a second line, restrain yourself from doing so.
2) Set an alarm to go off every hour.
3) At the top of every hour, write a new line, adding to the collection of lines you have written throughout the day.
4) Do this for fourteen hours.
Here's what happens, at least to me, when you set up these particular circumstances—you wind up thinking about the poem all day. Sure, you've spaced out the time you get to the page, but in the interstices of an hour, a poem begins to take shape from its first line to its next line to the line that follows. Of course, you're going to want to be sure that you are in a safe locale for this. One Kundiman fellow was driving when the fellow's writing alarm went off and she nearly sideswiped a car. Don't do that.
* * *
Oliver de la Paz is the author of four books of poetry: Names Above Houses, Furious Lullaby, Requiem for the Orchard, and Post Subject: A Fable, forthcoming from the University of Akron Press in 2014. He is the co-editor of A Face to Meet the Faces: An Anthology of Contemporary Persona Poems and the co-chair of Kundiman's advisory board. He teaches creative writing in the MFA program at Western Washington University.