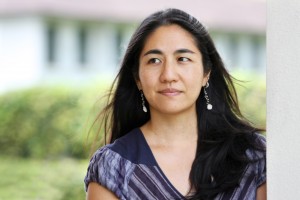 Janine Oshiro holds degrees from Whitworth College (now Whitworth University), Portland State University, and the University of Iowa Writers' Workshop. She is a Kundiman fellow and the recipient of a poetry fellowship from Oregon's Literary Arts. Her first book Pier was the winner of the 2010 Kundiman Poetry Prize and was recently published by Alice James Books. She lives in Hawaii and teaches at Windward Community College.
LR: In Pier, which is so richly evocative of the complex emotions surrounding the illness and loss of a loved one, you strike a fine balance between confession and creative license, authentic experience and fantasy. How did you find this balance? And how did you avoid sentimentality?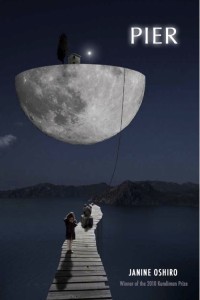 JO: I'll first respond to the "S-word." I didn't think consciously about avoiding sentimentality; while I don't want to be sentimental, I do think that sometimes the fear of sentimentality can inhibit the exploration of emotions. Sometimes the truth of a person's experience can come off as sentimental in a poem. There is no way around that. I would much rather read a poem that strikes me as authentic and a little sentimental than a poem that is just hip and ironic or detached and intellectual. I think about a poet like James Galvin, who in his latest book has a poem called "Two Angels," featuring a boy with a mental disability and a dog. It walks the fine line. I truly admire that he doesn't shy away from what might be construed as sentimental. In a way I think the fearlessness to even approach the sentimental is what makes some of his poems so powerful for me. I know that I have written some sentimental poems and poems I would never want anyone to read, and those poems have been important in my development as a writer and as a person.
I don't really know that I can answer the question about balance. Did I have a strategy for finding a balance? No. I had all these questions about losing my mom, seeing my dad's health decline, experiencing invisible presences, having a distinctly marked body, and feeling an "other" to myself. Writing the poems was my way of trying to answer these questions—even though I wasn't really aware of that as my "project" at the beginning. Of course, I could have chosen to answer these questions through journaling and therapy, which I did to a certain extent. But then there is this—making a word-object with sound constellations, reimagining experience, creating a new and authentic experience in the word-world. What really happened? I didn't really see a school of spoons swimming in the ocean though I write about it in the poem "Setting," but I really did experience something crawling out of a zippered compartment in the wall and running down my body as I describe in "Next, Dust." In the world of the poem what really happened doesn't matter. It is all really happening in the world of the poem.