Panax Ginseng is a bi-monthly column by Henry W. Leung exploring linguistic and geographic borders in Asian American literature, especially those with hybrid genres, forms, vernaculars, and visions. The column title suggests the English language's congenital borrowings and derives from the Greek panax, meaning "all-heal," together with the Cantonese jansam, meaning "man-root." This perhaps troubling image of one's roots as panacea informs the column's readings.
*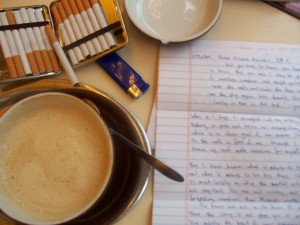 *
The title here is taken from a phrase by Laura (Riding) Jackson, from one of her prose writings after she abjured a successful career in poetry. I've been contending personally with her claims against poetry since the publication of my first chapbook, Paradise Hunger (Swan Scythe Press 2012). Jackson makes the case for a language with intrinsic truth-value as a pure means of expression, free from sliding signifiers, free especially from the generic constraints of literary form. She argues that poetry is a medium for accepting the "good enough" under the illusion of a truth that is ultimately inexpressible. This illusion is consummated by the aesthetic gesture, providing, at best, a sense of formal completeness. Poetry, then, is a closed circuit, which never stretches outward to communicate truth or to connect truly through words. In her essay "What, If Not A Poem, Poems?" Jackson writes:
A poem emits something that delights, seeming truth-like. But one learns, at long poetic last, that the poem cannot yield truth itself, truth unqualified: it is too much committed to yielding the semblance to be capable of yielding the pure reality. This, it is hard for the poet to know, for, though the poet perceive that, here and there, truth did not get its full due, such perceptions would lose themselves in the growing satisfaction felt in the coming to be of that extraordinary thing, a poem.
To put this another way, when Yusef Komunyakaa was once asked what sentimentality was, he answered: "Passion without form." Jackson wants to champion this passion and not the form. Let me rephrase this once more. Toi Derricotte has said that her writing process is the transmutation of an inner storm into an outer object—like a mug—which she can then place on the shelf. Again, the well-wrought form, its source in reality become a regardless matter. The poems I wrote for Paradise Hunger followed a series of family funerals, emerging from what I felt was a sacred process of grief, loneliness, and self-definition. The process came from a "crisis of universal utterance," a groping in language toward some manner of truth, understanding, consummation. But what I ended up with instead was just a form, an object in my hands. An object for the shelf, yes, but also an object for sale, a suddenly profane thing.
Continue reading "Panax Ginseng: A Crisis of Universal Utterance" →