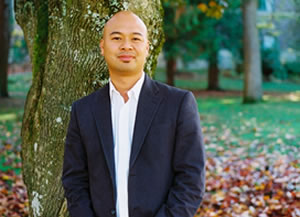 Oliver de la Paz is the author of three books of poetry: Names Above Houses, Furious Lullaby, and Requiem for the Orchard. He is the co-editor of A Face to Meet the Faces: An Anthology of Contemporary Persona Poetry with Stacey Lynn Brown, and co-chair of the Kundiman advisory board. A recipient of grants from NYFA and the Artists' Trust, his recent work has appeared in the New England Review, Sentence, the Southern Review, and elsewhere. He teaches creative writing and literature at Western Washington University.
* * *
LR: Who were your earliest influences as a young poet? Was there a momentous decision to pursue this career?
OP: I've got a lot of early influences so I'll name a number of firsts. My very first poetry book was The Selected Poems of Robert Penn Warren. When my parents first arrived in the U.S. they became subscribers to Readers' Digest and part of the subscription deal was to receive three gift books with their subscription. One of the gift books was Robert Penn Warren's book. So apart from my mother's medical texts, I was pouring over Robert Penn Warren's poems, not really understanding what was happening in them, but having a profound curiosity over the work.
The first poetry books that I ever purchased for myself were for a poetry class in college. I bought Galway Kinnell's Book of Nightmares and Adrienne Rich's Atlas of a Difficult World. The poetry collection that really opened my eyes to the sonic qualities a poem could have was Sylvia Plath's Ariel. I still have the first two tercets memorized: "The Sunday lamb cracks in its fat./ The fat/ Sacrifices its opacity . . . "
The first poetic influence that affirmed I could be a poet was Li-Young Lee's first book, Rose. I was deciding between continuing a career in the sciences, or pursuing poetry. At the time, I was a care provider in a supported living home for the developmentally disabled and an EMT. I had a lot of time to read because the main client I worked with slept a lot due to the meds. So I read long into my shift. I imagine that was when I decided to pursue the life of letters. I wasn't really excited about the lab work or the medical work I was doing, and I was feeling quite invigorated by all the poetry I was reading.