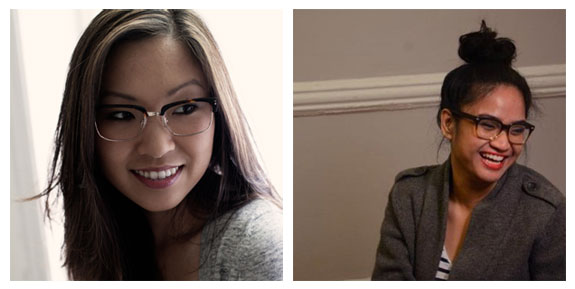 Today, we bring you the second installment in our mini series "2 Poets, 4 Questions." Each week in this series, we're pairing up two different emerging APIA poets and asking them to answer a set of four identical questions. Today's installment features two New York—based poets who are both alumnae of Sarah Lawrence College's MFA program and Los Angeles transplants: Eugenia Leigh (author of the forthcoming Blood, Sparrows and Sparrows) and Hossannah Asuncion (author of the chapbook Fragments of Loss).
* * *
1.
LR: February, when we're entrenched in the miserablest depths of winter, always seems to be a month of cravings: for indulgent foods, for human connection, for warmth, for light, for the coming of spring. (Margaret Atwood called it "a month of despair, / with a skewered heart in the centre" when one thinks "dire thoughts, and lust[s] for French fries with a splash of vinegar.") As a poet, what are your literary cravings? What whets your creative appetite, haunts you, and keeps you coming back for more?
EL: My obsessions and "literary cravings" vary in accordance with my life seasons. They're usually songs. Sometimes quotes. When I feel restless with those "dire thoughts" Atwood warns us about, I will expend myself tracking down the one song that resonates in both meaning and mood, then sit still and loop that song through my earphones for hours. Or I will stare at a quote for any length of time to absorb its meaning. This Franz Kafka quote, for example, carried me through bitter homesickness when I first moved to New York: "It is not necessary that you leave the house. Remain at your table and listen. Do not even listen, only wait. Do not even wait, be wholly still and alone. The world will present itself to you for its unmasking, it can do no other, in ecstasy it will writhe at your feet." At the risk of sounding insane, I'll admit I would stare at these words for entire evenings because I believed I could will them to come true.
During the season that produced my first book, I spent hours alone with Brand New's 2006 album, The Devil and God Are Raging Inside Me. Especially "The Archers' Bows Have Broken." I was far from having any semblance of faith in anything at the time, but I couldn't get enough of the idea of "a God that we found lying under the backseat" or a God in other mundane or sacrilegious positions and scenarios. In 2008, when I moved to New York, The Fray's "You Found Me" gave me a similar haven. The God in this song is "smoking his last cigarette," so I trusted this God enough to indulge the idea of him. Maybe it's correct to say I'm always lusting after the other worlds beyond this one. The Unseen. Unless a piece of art has an element of the mystical or the supernatural or the impossible, it's difficult for me to crave it. Love it and be moved by it, sure. But likely not lust after it.
HA: I experienced an almost hubris recently that I,  a poet—an occupant in the field of emotional cryptology,  am actually very not-knowing of my feelings.  And so I like words that investigate and excavate—I like vulnerability and searching. I very much like the answer, I don't know, but here is the doing and undoing of my world of questioning. The poets who are doing that for me right now are Ocean Vuong and Eduardo Corral.
Continue reading "2 Poets, 4 Questions: Q&A with Eugenia Leigh and Hossannah Asuncion" →