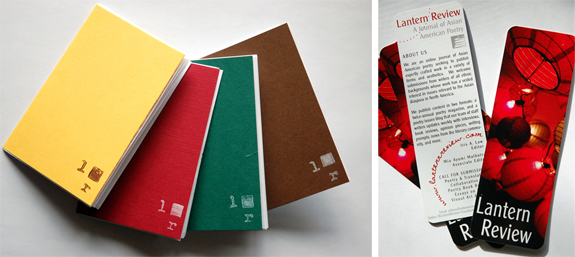 As we mentioned last week, the LR editors are gearing up for the 2010 AWP Conference with great excitement.  For those of you who will also be going, we thought we'd put together a list of panels and readings that we thought might be of special interest to readers and writers of Asian American poetry.  Come look for us, in particular, at Kundiman's Thursday panel and Wednesday off-site reading (co-sponsored with Cave Canem).  If you check out the bookfair, you'll also be able to find us (and our materials) at the Kundiman/Alice James Books table.
The Lantern Review Guide to AWP 2010
Recommended events of potential interest to LR readers
* * *
Wednesday
Off-Site Events:
7:00PM-10:00PM AHSAHTA / OMNIDAWN READING
Location: The Magnolia Hotel Ballroom, 17th & Stout (Only 3 blocks from the Colorado Convention Center.)
Cost: No charge for the event.
Please join Ahsahta Press and Omnidawn Publishing for a reading. The readers will be: Christopher Arigo, Susan Briante, Dan Beachy-Quick, Maxine Chernoff & Paul Hoover, Gillian Conoley, Ben Doller, Lisa Fishman, Noah Eli Gordon, Richard Greenfield, Janet Holmes, Hank Lazer, Laura Moriarty, Rusty Morrison, G.E. Patterson, Craig Santos Perez, Bin Ramke, Don Revell, Elizabeth Robinson, Heather Sellers, Heidi Lynn Staples, Michelle Taransky.
8:00PM-11:00PM Cave Canem/Kundiman Reading & Salon
Location: Mercury Cafe, 2199 California Street, Denver, CO 80205; (303) 294-9281
Cost: $3 suggested donation — to benefit Cave Canem & Kundiman (no one turned away for lack of funds)
Website: http://www.facebook.com/event.php?eid=474228325544&ref=ss
Join the Cave Canem & Kundiman Families for a Reading Featuring Toi Derricotte, Sarah Gambito, Cornelius Eady, Oliver de la Paz, Dawn Lundy Martin & Kazim Ali + a salon featuring Cave Canem and Kundiman fellows & family (bring a poem to share!)  Emceed by Ching-In Chen & Tara Betts.
Thursday
9 AM to 10:15 AM
R117. Decolonial Poetics: Womanist, Indigenous, and Queer Poets of Color on the Art of Decolonization. (Ahimsa Timoteo Bodhrán, ku'ualoha ho'omanawanui, Lorenzo Herrera y Lozano, Susan Deer Cloud, Ching-In Chen, Lisa Suhair Majaj)
R121. The Online MFA: An Innovative Alternative to the Resident and Low-Resident MFA. (Lex Williford, Daniel Chacón, Sasha Pimentel Chacón, José de Piérola)
10:30 AM to 11:45 AM
R124. Bollywood, Bullets, and Beyond: The Poetry of South Asian America. (Summi Kaipa, Pireeni Sundaralingam, Ravi Shankar, Bhanu Kapil, Subhashini Kaligotla, Monica Ferrell)
Noon to 1:15 PM
R148. Kundiman: Love Songs and Leaps of Faith. (Vikas Menon, Jennifer Chang, Matthew Olzmann, Sarah Gambito, Rick Barot, R.A. Villanueva)
Continue reading "Editors' Picks: The LR Guide to AWP 2010" →