This week on the blog, it's our privilege to feature the work of writer, book artist, and designer Thad Higa. For the past few months, Higa has been working on a visual poem with our 2021 theme of "Asian American Futures" in mind. Inspired by Kenji C. Liu's frankenpo form, his immersive piece probes the age-old microaggressive question "Where are you from?" and investigates issues of language and belonging by merging wordplay with typography and digital collage.
Below, we've asked Higa to introduce his project and the concept behind it. When you're ready to explore the poem itself in full, head on after the jump.
---
Artist's Statement
The aesthetic was founded on frankenpo, a verb defined by poet Kenji C. Liu in his book Monsters I Have Been as: "to create a new poetic text by collecting, disaggregating, randomizing, rearranging, recombining, erasing, and reanimating one or more chosen bodies of text, for the purpose of divining or revealing new meaning often at odds with the original text."
This is a digital broadside on identity ideation. It attempts to see words and concepts as identity-building materials that prop up binary, compartmentalized thinking. All variations of bodies and ways of being outside of this black/white vocabular are alien, invalid, dehumanized. "From the Mountain" wants to crack open English language and unveil the act of reading and judgement-making, to get at the root of seeing and knowing others and ourselves.
* * *
Thad Higa
From the Mountain
Mouse over the image below to explore the text with the magnifying zoom lens. Or, if you prefer, you can experience the piece in a text-only form via Higa's text "translation" of the poem.

* * *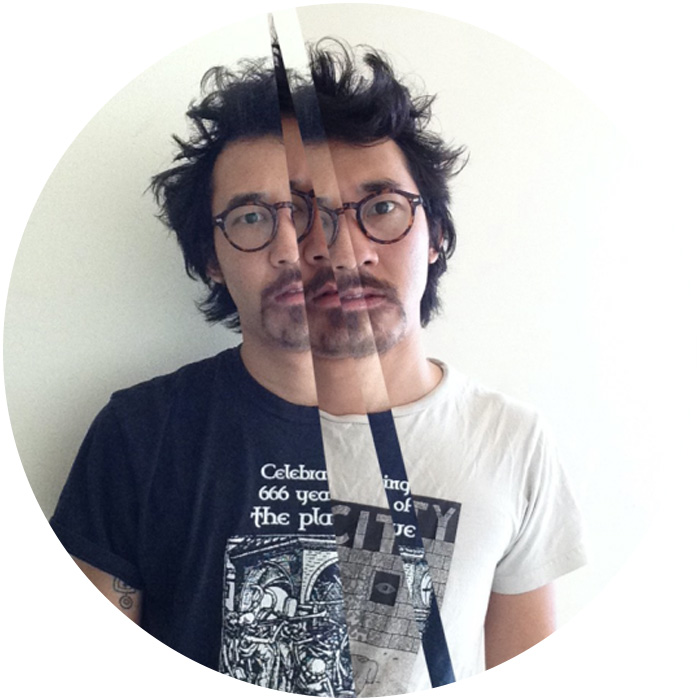 Thad Higa (b. 1989) is a Honolulu-based book artist, writer, concrete poet, and graphic designer interested in the synergy of written, visual, and cardboard box language. His work sleuths the death of identity through the currents of mass information/disinformation and advertisements. His work also addresses the life of words devoid of human beings, the machinations of sneaky words behind obtuse words, and is attempting to turn the act of opening and reading books into the next modern Polly Pocket dance. Get in touch with the artist at his website (https://www.thadhiga.com/contact) or on Instagram (@QRWHZGUB) to learn how to purchase his work. | Photo by the author
---
ALSO RECOMMENDED:
Sho by Douglas Kearney (Wave, 2021)
Please consider supporting a small press or independent bookstore with your purchase.
As an Asian American–focused publication, Lantern Review stands for diversity within the literary world. In solidarity with other communities of color and in an effort to connect our readers with a wider range of voices, we recommend a different collection by a non-Asian-American-identified BIPOC poet in each blog post.