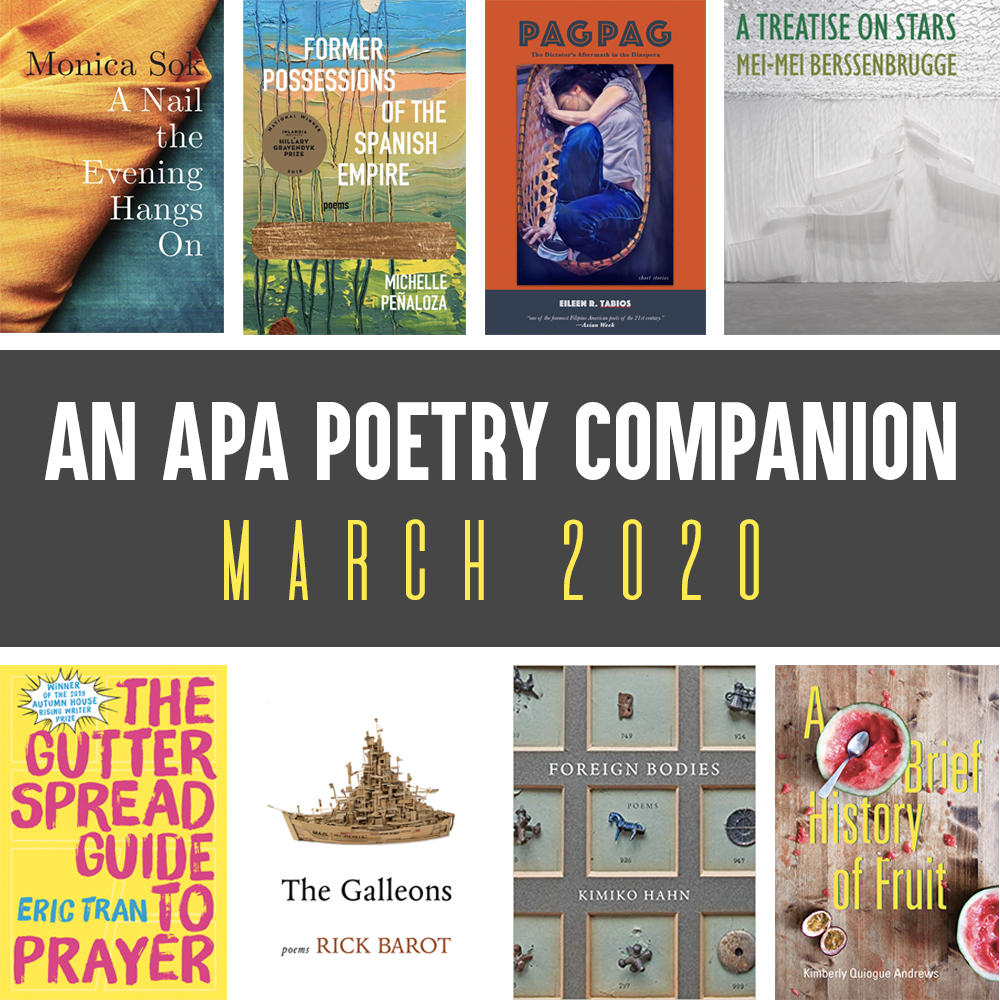 These are strange and heavy times we're living in. As many of us find the physical confines of our daily worlds suddenly reduced to the square footage of our homes, books—more than ever—can help us to feel connected to the outside world. Whether you're restless, in need of solace, or simply lonely for another voice, here are some new and recent books by APA poets to keep you company.
* * *
OUR TOP PICKS THIS MONTH:
Michelle Peñaloza, Former Possessions of the Spanish Empire (Inlandia, 2019)
Though LR contributor Michelle Peñaloza's Hillary Gravendyk Prize–winning debut collection came out last August, it's been on this editor's reading list for what seems like forever. I was a big fan of Peñaloza's 2015 chapbook landscape/heartbreak (Two Sylvias 2015), with its powerful, geographically grounded vignettes and close attention to imagistic texture, and Former Possessions seems to promise a similar deep engagement with the complex layers of trauma and history with respect to narratives of place and migration.
Monica Sok, A Nail the Evening Hangs On (Copper Canyon, 2020)
Sok masterfully weaves together the skeins of narratives left fragmented by the legacy of war, trauma, and diaspora with a skillful hand, moving fluidly between past and present; Cambodia and Pennsylvania. Together, the poems in this debut collection comprise a whole cloth that is by turns tender and unflinching—not unlike the beautiful length of strong yellow silk (handwoven by the author's grandmother) whose image wraps the cover of the book itself.
Eileen R. Tabios, PAGPAG: The Dictator's Aftermath in the Diaspora (Paloma, 2020)
Yes, PAGPAG is fiction, not poetry, but it's by LR contributor and APA literary great Eileen R. Tabios—we'd be amiss not to feature it! Hot off the presses (it was released barely a fortnight ago), this collection of short stories is not one to miss.
* * *
ALSO NOTEWORTHY AND NEW:
Kimberly Quiogue Andrews, A Brief History of Fruit (U of Akron, 2020)
Rick Barot, The Galleons (Milkweed, 2020)
Mei-Mei Berssenbrugge, A Treatise on Stars (New Directions, 2020)
Kimiko Hahn, Foreign Bodies (W. W. Norton, 2020)
Eric Tran, The Gutter Spread Guide to Prayer (Autumn House, 2020)
* * *
What new and notable books have been keeping you company this month? Share your recommendations with us in the comments or on Twitter, Facebook, or Instagram (@LanternReview).