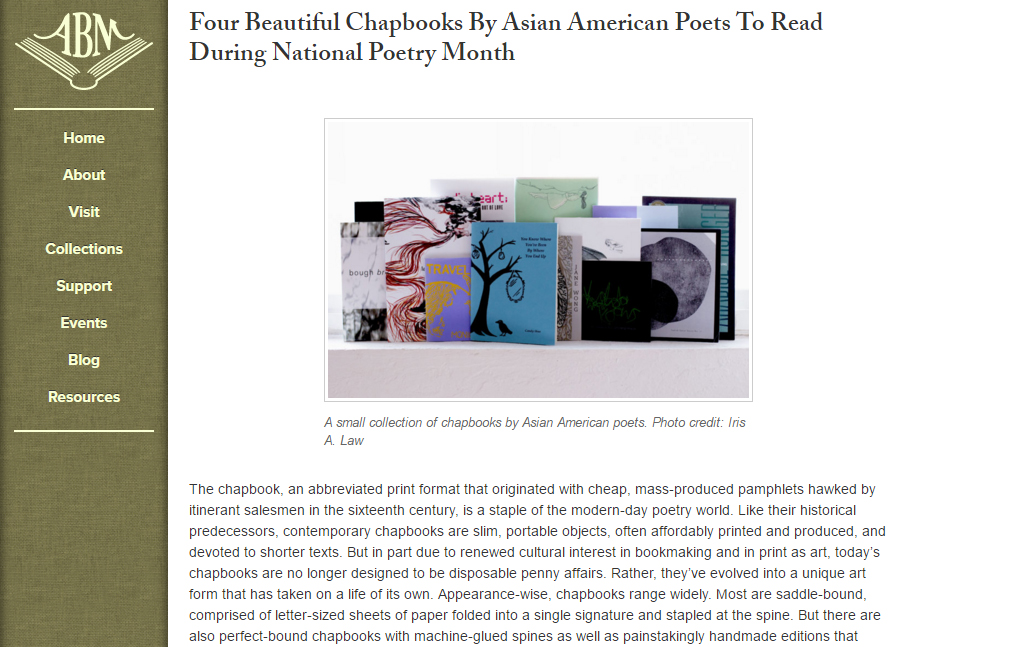 We're excited to announce that we have a guest post up on the American Bookbinders Museum's blog this afternoon. LR editor Iris writes about the history of the chapbook and its importance to the modern poetry scene and describes four chapbooks by some of the poets who are featured in our ongoing collaboration with the museum for National Poetry Month:
"Four Beautiful Chapbooks by Asian American Poets to Read for National Poetry Month"
Click on over to read about Monica Mody's Travel and Risk, Barbara Jane Reyes's For the City that Nearly Broke Me, Candy Shue's You Know Where You've Been By Where You End Up, and Debbie Yee's Handmade Rabbit Society, and please don't forget to stop by the museum tomorrow night (Thursday, April 21st), where we'll be taking over their Third Thursday event series with more work by Monica, Barbara, Candy, Debbie, Jason Bayani, and Brynn Saito.  You'll get the chance to view pieces that each poet read last Saturday, to respond in writing, and to construct and bind a mini chapbook of your own to take home.
For more information, please see the Facebook page for the event as well as our previous blog post that describes our collaboration with the museum in more detail. And if you're enjoying our focus on the chapbook, stay tuned for a dual interview about the chapbook with poets Margaret Rhee and Chen Chen next week. There's plenty of goodness still to come before National Poetry Month is up!