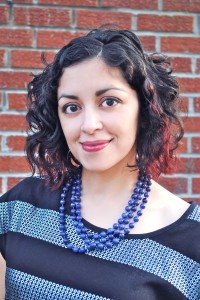 Aimee Nezhukumatathil is the author of Lucky Fish, winner of the Eric Hoffer Prize, and At the Drive-In Volcano, winner of the Balcones Prize. Her first book, Miracle Fruit, won the Tupelo Press Prize, the ForeWord Magazine Book of the Year Award in poetry, and the Global Filipino Award. Her poetry and essays have been widely anthologized and have appeared or forthcoming in: American Poetry Review, Black Warrior Review, FIELD, Shenandoah, Mid-American Review, and Tin House. Her writing has been awarded the Pushcart Prize and a fellowship from the National Endowment of the Arts in poetry. She is associate professor of English at SUNY-Fredonia where she was awarded a Chancellor's Medal of Excellence. She lives in western New York with her husband and their two young sons.
* * *
LR: Your first book, Miracle Fruit, won the 2003 Tupelo Press Prize, the ForeWord Magazine Book of the Year Award in poetry, and the Global Filipino Award. Could you describe the journey that Miracle Fruit took from birth to publication?
AN: A good third of it was from my thesis from The Ohio State University (my MFA is also in creative non-fiction) but I had a magical and productive year as a poetry fellow at the Wisconsin Institute for Creative Writing in Madison and that allowed me the time and resources to write the rest of it. I queried a few publishers directly and received lots of positive feedback so I decided to try my hand in two contests—one of them was, at the time, a relatively new press—Tupelo Press—and I about fainted when I got the email that Greg Orr selected my book as the eventual winner that year. I hadn't even completely unpacked yet. I was twenty-six and had just moved to western NY for my first year teaching at SUNY-Fredonia.
LR: Your poetry often uses fanciful imagery and direct tones of address (as in "First Anniversary, With Monkeys" and "Are All the Break-Ups in Your Poems Real?") to relay moments of intimacy and elements of personal experience. What kind of poetic decisions do you find yourself making when you work with autobiographical subject matter?
AN: I try not to bore myself. And talking solely about myself bores me. And I admittedly have a relatively short attention span. And I'm always thinking of two or three things at once when I write. So, the trick for me is to be able to type or write as fast as the images leap in my head. I know I'm onto something if a metaphor startles or surprises me—I'll try to hang on and follow that golden thread for as long as it will let me. I believe in an underworld littered with gems. In another life, I have to.
LR: It seems that every poet of color has a unique approach to the problem of how—or even whether—to address questions of identity in their writing. What strategies of craft do you employ when your writing touches on the subject of identity?
AN: Teeth brought me into being. At night, my teeth grow long, and by day, they shrink into little sets of dice. And sometimes I hear a man singing. In other words, I never set out to write poems about "identity." I just write and sometimes it comes up, sometimes it doesn't, and that's okay too. The unpardonable sin for poets is to bore the reader. I can't sing worth anything (though that doesn't stop me when I'm in the car or shower!) but I think I have a pretty good ear for sound and music in a poem and so when I am revising, I'm often mumbling and reading out loud, sussing out the right sounds for each line and where the linebreaks should be. But I do that with virtually all of my poems.
LR: Your latest book, Lucky Fish, borrows much of its language and imagery from the natural world, which I imagine must have required a good deal of research. Can you describe for us how you discovered your source material and how you chose what elements to draw from for your poems?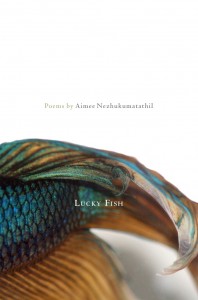 AN: Well, the not-so-dirty little secret is that I read way more science and nature books than I do poetry. I mean, reading a field guide about shells in the Pacific Ocean, for example, is my idea of a really good time. Kidding! (Sort of). So source material is never lacking per se, but when I'm drafting a poem, it's because I have an image or a line that I can't get out of my head and I start 'sketching' that out and from there, the image or line spirals outward until I have a lyric stanza or narrative growing from there. I'm drawn to images from nature that highlight a strange or arresting bit of beauty (or even terror) in an unexpected landscape.
LR: Parenthood is a theme that emerges strongly and frequently in Lucky Fish. In what ways does being a parent serve as a particular source of inspiration for you as a poet?
AN: I'm writing this fresh from a night when my youngest woke in the middle of the night wanting to inexplicably play! and play! and I'm running on about 3–4 hours of sleep, so right now SLEEP is my biggest source of inspiration. Oh, sweet, sweet sleep! 🙂 But in all seriousness, becoming a mom has brought my heartbeat closer to the surface of my skin—I empathize with others in ways where I would easily look the other way, out of sight out of mind. News reports of violence towards children or kids committing suicide because they'd been bullied haunt me and trouble me at night, but before I had kids, I could just shut off the news and just forget the awful stories. But I think I also love more and have more patience in ways that I know I didn't before I had kids. And I feel more of a fervent (and perhaps a bit of an earnest) push to record it all, to get it all on the page for my boys as a way to give them a document and record of sort—how much their mother loved this planet and its inhabitants, and ultimately, how much I love them.
LR: Despite the fact that formal poetry has fallen out of vogue, you often experiment with form in your work. What is it about form that interests you?
AN: I think formal poetry is very much alive and prospering, actually. In all levels of creative writing classes I teach—from beginning to advanced—I make sure to teach at least 4–5 types of formal poetry forms because I think there is much to be gained from exercising your brain in that way. Like cross-training in fitness. Like assembling one of those thousand-piece puzzle sets. I love the strategic architectures of sound and image that get created in formal poems.
LR: You have spoken about writing from a place of joy. How does this affect you on a practical level? Does it affect your perception of other poets' work (i.e., is there such a thing as 'reading with joy,' too)?
AN: Great question! I do read with an eye towards joy and finding beauty in unexpected places. But that doesn't mean I can't or don't want to read about darkness, about solemn and sad moments in history, for example. Mostly I read to learn something I didn't know (or to remember something I forgot I once knew) or to be surprised or delighted with the word. I read to discover something new about my fellow human beings and to imagine a life/lives different than my own.
LR: Can you describe your writing process for us—perhaps by walking us through the inception and shaping of a favorite poem that you've written recently?
AN: It's nearly impossible to trace my process of drafting a poem, but I can tell you that I was watching a nature special about penguins with my almost 5-year-old a few months ago, and the camera just zoomed in on this one singular penguin for what seemed like an inordinate amount of time, no narration. Beautiful. So after I put my son to bed, it got me thinking—What exactly does a papa penguin register in a nighttime that lasts two whole months? During those days of no sun, does he remember the particular bend of his mate's neck, what hint of yellow near her ears? Or does he hunger for a slip of hooked squid, worry about the grand gulp of air he must take, the concentration needed to slow down his own heart to keep alive in the dark? I don't know that any of that will work itself into a poem, but I know I took the time to scribble it into my little apple-green notebook so that maybe in 3–4 months or even years, I might come back to that image of male penguins waiting patiently in the Antarctic dark for their mates. But I can tell you that if and when that image appears in a poem, the poem won't be "about" penguins—but the image or metaphor-making from that long penguin wait might pop up just when I (and hopefully, the reader) might least expect it.
LR: How do you think your poetry and your writing process have evolved over the course of your career so far?
AN: Poetry used to be such an insular experience for me. I mean, it still is, for the most part, just me and my notebook and eventually a computer screen, but I'm so much more aware and conscientious of being in a community of writers, whether that be my dear friends and former students from Kundiman, or other poets from around the world whose poetry I admire so much. And thanks to social media and the magic of the Internet, we can reach out to each other in ways that I hadn't before. I love hearing good writing news from my friends and I am thrilled when a friend publishes a poem or a whole collection—it's important for me to champion the work of others because so many people (who I've never even met) have done that for me. I always have loved writing letters and postcards, and still do, but I live in a tiny rural town just south of Buffalo, NY, and through email, I've also exchanged weekly or daily poems with a writing group of 5 poet-friends scattered all over the country. I can send drafts of work to trusted readers more efficiently and they can send work or whole manuscripts to me. But nothing, nothing beats the intimacy of getting "happy mail"—poems, postcards, and letters in my mailbox. How I love seeing my friends' handwriting and a cancelled stamp.
LR: What has been your experience of teaching at Kundiman? Based on that experience, what is your impression of where Asian American poetry is right now and where it might be going?
AN: Is it ridiculous and cheesy to say it was a life-changing experience for me? Very well, then—I AM pretty corny and won't apologize. 😉 But yes, yes, it's all true: Life. Changing. The first time I was on the faculty, I had just returned from my honeymoon in St. Lucia and teaching at Kundiman was the first time I was going to be away from my husband for that long, so I had trepidations about being able to honor the spirit of closeness and being fully present for the students and staff, you know? But from the moment opening circle began on that first day, it truly was like I had found all of these long lost cousins—family I never knew I had. I actually wept when I left—so much love and open hearts and I witnessed such bravery and such talent and building up and support for their fellow writers. It was my experience as a member of the Kundiman faculty that helped shape what I now think of when I think about the word "community." The giving back and support and encouragement to writers. My only regret is that I wish Kundiman was around when I was fresh out of college and never knew any other Asian-American poets in their 20s. That concept alone seems so ridiculous to me now. Of COURSE they are out there—but without the Internet, coupled with living in the suburbs of the midwest, I never knew that, and I had no one to tell me otherwise, so I often felt very isolated in that way. But I'm incredibly honored and grateful to help shape this effervescent time for Asian American poets—I think the poetry we are seeing now is ultra dynamic and fresh and loaded with a ton of heart. For just one example—so many students from my years with Kundiman have gone on to publish incredible books of poetry—I'm super psyched about books soon to come from Kundiman alums Matthew Olzmann, Tamiko Beyer, Brynn Saito, and Sharon Suzuki-Martinez, among others. And many more Kundiman alumni have gone on to organize literary events in their little corners of the world, building on that community experience and spiraling outward that love for the written and spoken word across the country.
LR: Can you tell us about what you're working on now?
AN: I'm always drafting bits of poems, and now that the semester is done, I will be able to dig a bit deeper in some lyric nature essays I've been writing and revising for what seems like forever. I'm also writing a longer collaborative poem with my friend and poet Ross Gay, about the joys and tribulations of each of our gardens over the past year. And 80% of that collaboration has taken place in exchanges of letters and notes (I refuse to say 'snail mail'). I'm also planning my soon-to-be-five-year-old's "outer space and robots" birthday party. And trying to work up the courage to give a haircut to my, shall we say, "spirited" 2-year-old. And of course, writing more poems.