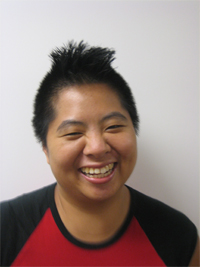 Ching-In Chen is the author of The Heart's Traffic, a novel in verse.  She hearts street food, the zuihitsu & other "hijacked forms" and gets lost easily. Daughter of Chinese immigrants, she is a Kundiman, Macondo and Lambda Fellow. A community organizer, she has worked in the Asian American communities of San Francisco, Oakland, Riverside and Boston.  She is the co-editor of The Revolution Starts at Home: Confronting Intimate Violence Within Activist Communities, forthcoming from South End Press in 2011. She can be found online at www.chinginchen.com.
In our Process Profiles series, young contemporary Asian American poets discuss their craft, focusing on their process for a single poem from inception to publication. Here, Ching-In discusses her poem "Olivewood Cemetery: a haibun of Riverside, California" which originally appeared in the 10.2 issue of Diagram.
* * *

This poem began at a Ching Ming (grave-cleaning) ceremony for the Riverside Chinese who hadn't been sent back to China and didn't have descendants to take care of them.  I felt a chill — of history, ghosts, untold stories, communal energy — as we gathered to read the names of the dead.  The list also consisted of death causes, occupations, ages.  As the roll call continued on in my head, what became clear was how much I did not know about these people.  At the time, I was teaching sections for Creative Writing and we had to read Rick Moody's "Boys," in which he repeats the same sentence over and over, adding in different meanings by adding layers over the sentence.  This made sense to me for my Chinatown dead.
As I continued to work on the poem, I kept adding in more layers — I didn't want the poem to exist only as causes of death.  It needed some juxtaposition from an unlikely source.  I had been working on another Chinatown poem, which involved dreaming up a grandfather and his journey from the train station.  The grandfather migrated to Olivewood Cemetery and took up residence.  With each addition, there had to be an opposite reaction — in came the fancy lady and letter of introduction.
Because I was working in the graveyard, I started thinking about the idea of buried text — the main text of the poem being above ground and the footnotes being below ground.
I discovered that the haibun — a prose block with an embedded or attached haiku which can provide a juxtaposition to the prose — was the perfect form to contain the chaos of the layers.  And I donated the haiku to the developer — the smallest piece of property within the poem.
Below is the published version of "Olivewood Cemetery . . . "
[Click on the poem to enlarge it].