If you've been following us on Twitter or Facebook, you've seen that we've had some great news recently:  Lantern Review has been featured not once, but twice, on Harriet (the Poetry Foundation's blog) this week!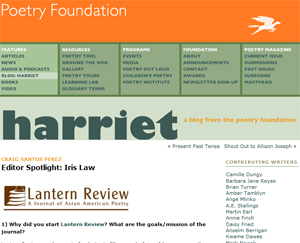 On Sunday, Barbara Jane Reyes posted a roundup of Asian American literary magazines, which featured LR alongside our friends at Kartika Review (who just put up a stunning new issue with a poetry section edited by Kenji Liu), and The Asian American Literary Review (whose first issue we talked about in a post last week).
Then, on Monday, Craig Santos Perez posted an Editor Spotlight Q&A, in which he gave me  [Iris] the opportunity to share a little more in depth about the genesis and mission of LR.
Needless to say, we are both thrilled by, and very grateful for, this honor.  A gigantic thanks to Barbara and to Craig for helping us to get the word out about LR in such a big way, and many thanks to you – our readers – for your continued support as we build toward Issue 1.   (P.S. Don't forget that we are still taking submissions until April 29th – last chance to get your work in before we start wrapping up our editorial decision process!)