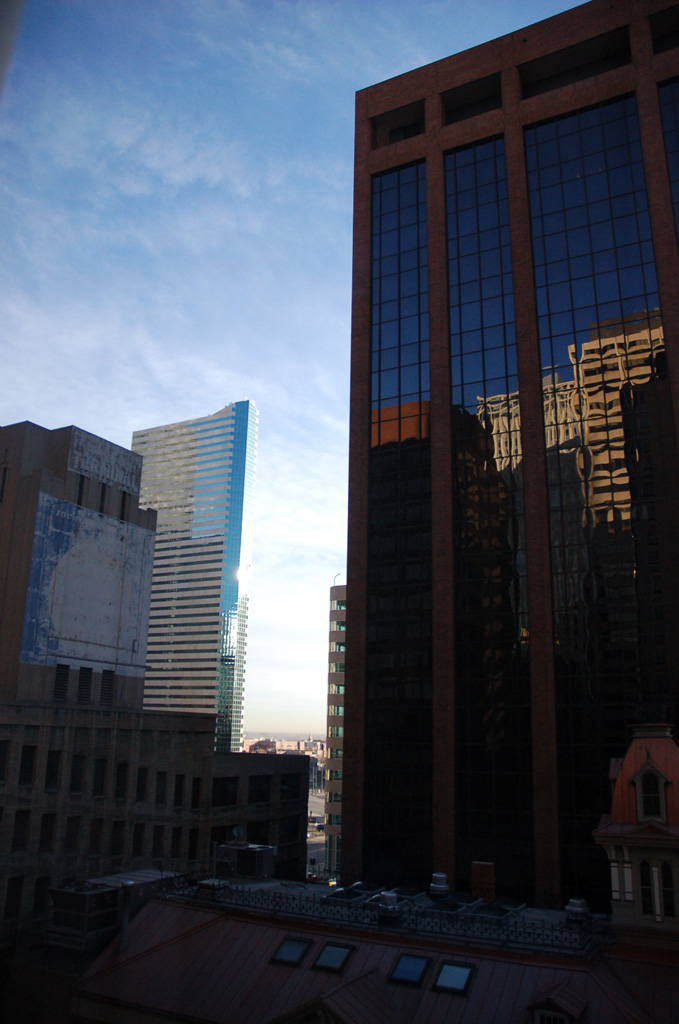 Waking up to bright sun and brisk, springy weather every morning was just one of the many small points of brilliance that characterized AWP for Mia and me this year.  Having just come off winter (we both live in places that are not known for their sunshine during the first few months of the year), it was a treat to look outside our hotel room in the morning and see sun, blue skies, and mountains in the distance.  Denver was beautiful.  Even the snow that had been forecast for Wednesday held off for us.  But not even the gorgeous weather or the lure of spring fever proved powerful enough to distract us from the activity going on inside the harshly-lit interior of the Convention Center this weekend.  When I say that it was a wonderful AWP, I really mean it.  After last year's conference in Chicago (I met Nick Flynn!  I heard Sun Yung Shin read! Lan Samantha Chang complimented my sweater! Poetry played in the elevators all day!) I was prepared for this year to be pretty darn awesome.  But my experience this year totally blew me away.  Part of it was the fantastic panels and readings that I attended.  Part of it was the excitement of walking around the bookfair and getting to talk about LR and hand out our bookmarks and mini-books. Part of it was the great hotel, great food, and Mia's great company (I'll admit that we took at least one night off towards the end of the conference just to spend some catching up and discussing each other's poems over styrofoam cups of Ramen).  But a large part of what made the experience so great was the amazing generosity of the people that we met there, and the passion with which we heard them speak of their work and their involvement with communities of other writers.
Over the course of the four days, Mia and I went to panels and readings galore and spent lots of time in the bookfair.  In this two-part series, we'll be reflecting on just a few of our favorite events.  For my post, I'll be focusing on one off-site reading and three panels/readings that I particularly enjoyed.  For more about our experience, look through our Flickr gallery of photos from the weekend, and check back here at the blog for Mia's followup later this week.
Follow the jump below to read my reflections on the Kundiman/Cave Canem Joint Reading on Wednesday, Thursday's Kundiman Panel, Friday's From the Fishouse reading, and Saturday's Split This Rock's panel.
Kundiman/Cave Canem Joint Reading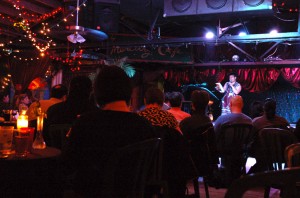 The Kundiman/Cave Canem off-site reading (on Wednesday night) was a truly rocking way to start off my weekend.  The event was held on the second floor of the Mercury Cafe — an awesomely eclectic venue (think: Vaudevillian with a homey twist) complete with a blue-lit stage, shiny red curtains, strings upon strings of Christmas lights, hand-painted signs, and plastic chairs and tables that had been set up dinner theater-style. The format of the night, moderated by emcees Ching-In Chen of Kundiman and Tara Betts of Cave Canem, began with a wildly diverse lineup of readings by notable Kundiman and Cave Canem fellows and faculty, and concluded with an open mic showcasing the work of other fellows who were in attendance.  The event (as most readings I've been to have tended to do) started late, and as my friend Sami and I were jetlagged and exhausted from traveling all day, we left before the open mic began, but the setlist of readings that we were able to catch was fabulous.  Notable moments included Tara Betts giving tribute to all of the Cave Canem fellows who had passed away through the years, Ching-In Chen telling the story of, and reading poetry by, Melissa Rojas (a Kundiman fellow who was kidnapped and tortured while doing community work in the Philippines), Kazim Ali's sassy/quirky tribute to Lucille Clifton (which eventually went on so long the emcees had to cut him off!), Oliver de la Paz's reading of a wonderful poem that described his teenage years as a punk, and Cornelius Eady's fabulous performances of "Emmett Till's Glass-Topped Casket" and "Aretha Franklin's Inauguration Hat" (his delivery always resonates just so in the room and gives me the chills).  Several of the readers also made some very thought-provoking statements about the important work that Cave Canem and Kundiman had been doing in terms of creating a space for writers of color within the writing world.  I believe it was Toi Derrecotte who noted, at some point, that the face of AWP had changed dramatically during her career — to have a room full of writers of color listening to other writers of color read would have been unheard of years ago.  So what these two groups have been able to do is incredibly remarkable. And yet, there is still much work to be done (even looking at the demographic of the reading going on downstairs – which Sami and I nearly walked into by mistake at first – one could tell that AWP outside of the panels dealing with race is still in some ways quite homogenous). Indeed, the need for community spaces became a theme that we heard repeated again and again throughout the weekend.  The deep sense of loneliness that can be felt by writers of color who are operating in an environment where they feel that they are the only one: at some point one writer (I cannot remember who, unfortunately) likened it to writing in the dark and thinking they were writing all alone, and then it was as if suddenly Cave Canem switched on a light and they realized that there were others all around them, doing the same thing.
Love Songs and Leaps of Faith [Kundiman Panel]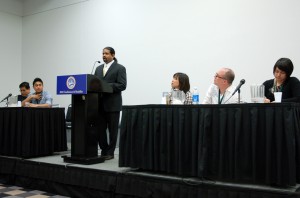 Kundiman's noontime panel on Thursday was another wonderful testament to the importance of community to the creative life and growth of a vibrant group of writers. Moderator Vikas Menon kicked off the event by describing the mission and history of Kundiman, and then five Kundiman fellows (Janine Joseph, R.A. Villanueva, Matthew Olzmann, Esther Lee, and Rick Barot) read poems and shared their reflections on the impact that Kundiman had had on them.  I was especially moved by Janine Joseph's description of the moment when she realized that Kundiman was a space that finally felt like family, like home, and by her powerful ghazal describing the dizzying experience of her concussion after a car accident .  Olzmann's hilarious poem involving large, carnivorous reptiles with magnets taped to their heads (enough said!) and R.A. Villanueva's deft lyrics dealing with quantum mechanics and frog dissection in Catholic school also stuck with me that afternoon.  The final aspect of this panel that I really appreciated was the way in which one could see community truly being enacted in the ensuing dialogue between the audience and the panelists.  Instead of sitting in uncomfortable silence, audience members (including some very well-known ones, like David Mura) sprang right into the discussion once the Q&A portion of the session was opened, throwing out lots of big questions to which the panelists responded as a collective body, referring to not only their own experiences, but also to one another, and to other people in the audience.  And the conversation did not end with the end of the panel — it continued on in the hallway long after we had to vacate the room.
From the Fishouse: A Reading of Poems that Sing, Rhyme, Resound, Syncopate, Alliterate, and Just Plain Sound Great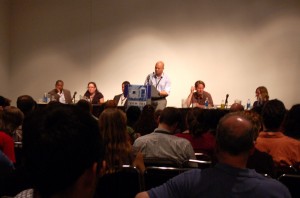 I'll admit that – not being incredibly familiar with most of the poets in the lineup for this reading – I initially went to this event mostly to hear Oliver de la Paz and Major Jackson read. I ended up being very glad that I did, though, because this reading, as a whole, proved to be absolutely fantastic.  I was, of course, duly blown away by de la Paz and Jackson's performances, but Mia and I also concurred that we loved the vibrancy of Adrian Matejka's work — the way the room resonated with his voice and the audience was stirred to verbal response.  And when Camille Dungy – who was asked to read her poem "Black Spoon" at the last minute – began to recite it from memory, I was spellbound.  One of the truly lovely aspects of this reading was that each of the poets alternated between reading their own work and reading the work of other poets who were represented in the Fishouse anthology.  I thought this was a great way to represent the contributions of poets who were not included on the panel — and it reminded me of Dana Gioia's famous protestation in his essay "Can Poetry Matter?" that all readings should include at least some work by other poets.  I don't always agree with all of Gioia's views on poetry, but after having sit in on the Fishouse reading, I could see the wisdom of his idea.  It was neat to hear each poem's work in conversation with the work of other poets whom they admired, and it was also great to get a sense of the rich variety of voices that the anthology contains.  (We definitely recommend checking out this anthology, by the way – it's set up to be a useful tool for teachers, and is – in an unusual move – organized by poetic device; plus, how can you resist a book that bills itself as "a jamboree of poetry at its acoustic best"?)
Don't You Hear This Hammer Ring? Socially Engaged Poetry in the Age of Obama [ Split This Rock Panel]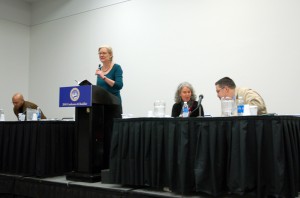 This was the second-to-last panel that I attended during the course of the weekend, and it was a great way to synthesize many of the things I'd heard said about politics and poetry at earlier panels.  It was unfortunate that a fair number of the panelists who were scheduled to present could not make it (I was especially disappointed not to be able to hear Regie Cabico), but moderator Sarah Browning presented a superbly eloquent argument for the necessity of political poetry, and the panelists' readings illustrated the range of possibilities made available by socially engaged poetics.  It was really compelling to see how deeply invested the organizers of Split This Rock are in the belief that poets cannot responsibly exist in a contemplative little bubble — that they must, in some way, reach out and respond to the injustices in the world around them. Despite the fact that it was an early panel on the last day and everyone was tired, the presenters carried themselves with gravity, grace, and a sense of humor – something that came in handy whenever things (like Melissa Tuckey's discovery that she was missing half of the poem she'd intended to read) didn't go exactly as planned!  The poets at this reading also engaged in the reading of other people's poems (or "OPP"), which was awesome to see.  Their own poetry was great, as well; Mia and I both particularly enjoyed John Murillo's performance of "Ode to a Crossfader" ("something to wake me up," he commented by way of introduction),  a wonderfully syncopated piece that perfectly captured the edgy rhythms of scratching, mixing and sampling.
* * *
The panels I attended this weekend formed a powerful illustration of the tapestry of conversations surrounding the work that I — and all of us here at LR — desire to participate in: the work being done by writers of color, work being done with an attention to issues of race, class, and sexuality, the work of communities, and the plain beauty of well-crafted and sonically resonant poetry.  The weekend served as a much-needed reminder of the importance of pushing forward into the things that we as Asian American poets and as lovers of poetry need to survive creatively, of the good work that has been done by older writers in order to pave the way for us, and of the work that we must continue to press into — in making a space for ourselves within the greater conversation of American poetry, but also in engaging with our responsibility to respond to the things that we see going on in our communities.  That we can, and must, be a cluster of voices that speaks earnestly to the luminous qualities of language and to the pain and joy of lived experience, but that we must not forget to remain attuned to the "temperature" of the world around us.