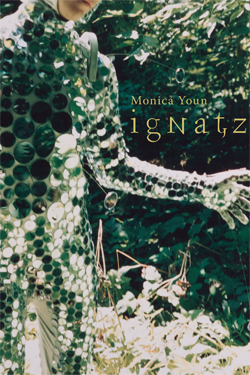 National Poetry Month is coming up in April, and in order to mark it, the LR blog is going to be hosting our first ever Prompt Contest, made possible by the generous sponsorship of Four Way Books.  Do you think our Weekly Prompts could use some spicing up?  Do you have a favorite writing exercise that you'd like to share?  Here's your chance to have your ideas featured in our weekly content, or even — if you turn out to be the one lucky person whose prompt we like best — to win a signed copy of Monica Youn's new collection Ignatz!
Here's how it will work:
1) Leave a comment on this post that includes the text of your prompt.  Entries must be posted by 11:59PM EST on Thursday, April 1st April 8th. Comments on this post will close after that time. Please leave some form of basic contact information in your comment (even if it's just a link to the contact page on your web site), so that we can get in touch with you if you win.
2) During the first full week of April, we'll be choosing the four prompts that we like best.  The winner and all three runners up will have their entries featured as Weekly Prompts on the LR Blog during the four Fridays from April 9th – 30th.  In addition, the winner will also receive a special prize that has been graciously offered  by Four Way Books: a signed copy of Monica Youn's Ignatz. We will announce the runners up and winner week by week starting with the third runner-up and culminating with the winner, so keep on checking back in April to see if your entry has been featured.
3) A few ground rules: You may only enter once. Please submit only poetry prompts.  Keep all prompts appropriate: anything of a bigoted, demeaning, or nasty nature will not be considered; we'd also appreciate it if you could please try to keep your prompts somewhat PG in nature, as when choosing prompts we always try to look for flexible exercises which can be adapted for classroom use with either adults or kids.
That's it!  Go forth and prompt-ify; we look forward to reading your entries!  And while you're at it, please do check out Ignatz on Four Way's site.  Many thanks to Editor Martha Rhodes, to Monica Youn, and to Four Way for their generosity.  Be on the lookout for our review of the collection next month.