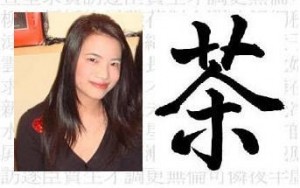 Tammy Ho Lai-Ming is a Hong Kong-born writer. She edited Hong Kong U Writing: An Anthology (2006) and co-edited Love & Lust (2008). She is also a founding co-editor of Cha: An Asian Literary Journal, the first Hong Kong-based online English literary publication. She is currently studying in London, UK. More about Tammy can be found at her web site.
***
LR: First question to ask any writer—how did you start, or what are your memories of first starting to write creatively?
TH: Until university, I wrote almost exclusively in Chinese, mostly just scribbling and half-thought out ideas. I think it took English to really get me started. When I was an undergraduate student at the University of Hong Kong, I spent a great deal of time in the library. One day, I picked up a copy of Ambit off a shelf I was sitting near and started reading. I was especially drawn to the poetry and shortly afterwards I began trying to write creatively in English. I showed my first poems to one of my professors and received positive feedback, which encouraged me to continue writing. I have been writing ever since.
LR: As a Hong Kong native and member of the HK Writer's Circle, you've remarked that the size of the HK writing community has been underestimated, even by yourself. As a young writer, who did (or do) you look to as models and as peers?
TH: This question is interesting as recently I was thinking about the smallness of the Hong Kong poetry writing scene. I think that my opinion of the scene probably waxes and wanes, sometimes it seems full of great writers, other times it feels a little bit constrained. The truth is that there are some strong writers in the city but as English is not the first language of most residents, the number of English writers is always going to be limited.
My models, I think, vary through time. I often find inspiration in the works I am reading at the moment and in recent personal experience. I don't think that there is someone I return to over and over again as a source of inspiration or as a guide for my creative writing. That said, the following Asian writers have inspired me at different points of my writing career: Shirley Lim, Louise Ho and Leung Ping Kwan. As for peers, I would have to say first and foremost Reid Mitchell, my writing partner and sometime friendly editor. Also, I would like to mention the Singaporean poet Eddie Tay and Hong Kong poet Arthur Leung.
LR: What would you say is special about being a writer in HK?
TH: I guess the mixture of Chinese and English influences is probably the most obvious characteristic of writing in Hong Kong.
LR: Interesting–could you elaborate? What is it like to be composing in a language that may not be your native one? How does actually writing in a different language feel different from, say, translation (if it even does)?
TH: Personally, when I write in English, I think first in that language. But I do wish to have more Chinese/Asian elements in my creative works. I don't want to ever lose touch with my linguistic and cultural roots.
LR: Cha's "about" statement remarks that Cha was founded a decade after the handover—does this figure into HK writing?
TH: Of course, some writers address the handover. However, as far as I know, the English creative writing output from Hong Kong is generally not very political. An exception I can think of is Louise Ho, a Hong Kong poet whose writings have some political elements. We mentioned 'a decade after the handover' in Cha's "About" statement as much as a time marker as any kind of political statement.
LR: What about being a writer in the Asian diaspora?
TH: I am not sure that I am an Asian diaspora writer. I am from Asia and although I currently live in the UK, I will return home at some point. I am more in the Asian-expat writing community.
LR: You are also a scholar of Victorian literature. How, if ever, do your more academic pursuits intersect with your creative ones?
TH: In some ways, they are very different pursuits. However, sometimes my academic reading (either in the form of novels or scholarly works) will inspire me to write something. I am sure that my poetry is full of unconscious or conscious reactions to my academic work.
LR: Two of your poems that I really enjoyed: "Minute" ("You are so spoiled. I had not time to philosophise"—something I think many of us have heard from our parents!) and "Ring Fingers" (just the fantastic nature of it). Care to comment on either?
TH: "Minute" is a very autobiographical poem. The scene portrayed there isn't far off of an experience I had visiting my parents' house. It was actually written on the bus home after spending a night with my family. My father told me about his fear of the clock and we looked at its hands together. It is a moment I will never forget, not only because it is now captured in the poem.
"Ring Fingers" is also autobiographical. It is about the time I lost my ring fingers and the cat ate one of them.
LR: Why and how did you start Cha?
TH: We started Cha in the summer of 2007 because we realized that Hong Kong did not have an online literary journal, at least in English. Such journals are common in the West but are less so in Asia. From our observation, we also knew that there is a lot of great writing in English in Asia but that it often goes unnoticed. We therefore decided to found Cha, as a means of trying to support new writing from and about Asia. Since Jeff (my co-editor) is a professional editor and I had also edited several literary collections, we felt we were in a reasonably good position to start the journal.
LR: Why the name, "Cha"?
TH: When we founded the journal, we wanted to publish work from across Asia, not just from Hong Kong. Cha, which means tea in many Asian languages, struck us as a name which could encapsulate many different eastern societies at once. Obviously, the drink is an important, nearly ubiquitous, element in many Asian cultures. But beyond this, the word cha, and its variants, is almost as common in the region. For example, a word which can be Romanized as cha means tea in Korean, Japanese and Chinese. Likewise closely related words also mean tea in other languages. Think for example of chai in Hindi. Drinking tea is associated with a kind of contemplation, a sense of savoring something that is both simple and complex, which is equally true of good literature. So because of its linguistic and cultural ubiquity in the continent, and its more philosophical associations, we thought that Cha provided an apt name for a journal devoted to Asian literature.
LR: An issue for any literary magazine that is "ethnically" themed is choosing what content fits this theme—does a journal themed around the Asian diaspora experience need only showcase work by Asian authors, and what is an "Asian" theme to begin with? Cha has previously published work by diverse authors on diverse subject matter, yet manages to maintain its central theme. What is Cha's philosophy, and how do you find yourself choosing what to publish?
TH: Again, I am not sure the term 'diaspora' is entirely appropriate to describe Cha. Of course, we have published a number of writers who could be considered part of the Asian disapora, people of Asian descent living in another country. But many of our writers are also Asians living in Asia. We also publish a number of writers who could be jokingly called part of the 'Caucasian disapora', that is, expats living in the region. One thing we have realized editing the journal is that the definition of 'Asian writing' is quite fluid and dynamic. I think what my co-editor, Jeff Zroback, wrote in his second anniversary editorial summarises our philosophy on 'Asian writing':
I also had no sense of the diversity of the Asian writing community. When we began, I assumed that Asian writers were those found on the continent, locals, maybe a handful of expats. I have come to realise that this definition was far too narrow—that in a globalised world the idea of Asian writing must be more inclusive and fluid, must encompass the perspectives of writers from the diasporas, travellers to the region, even people with an interest in the continent. Asia it turns out is everywhere. All you have to do is open your doors. How else can one run a Hong-Kong based journal from a house in London?
LR: An interesting feature of the magazine is "A Cup of Fine Tea," in which you revisit and analyze works published earlier in the magazine. What was the impetus for this feature, and what are your future plans for it?
TH: "A Cup of Fine Tea" is our critique column for works previously published in the journal. The philosophy behind it is that if something is good enough to be published in Cha, then it is good enough to receive critical attention. We also hope to encourage discussion of the texts through our interpretations. We have also found that just providing a different way to look at the works draws readers to the journal website; some people are more drawn to the academic side while others prefer to read the original texts for themselves. I am not sure that we have definitive future plans for the column, although we would like to attract some outside writers to contribute. We have also had reactions from some of the writers featured in the column. For example, one poet would like to include our piece in her upcoming collection.
LR: Interesting about their reaction–are they ever surprised by what people find?
TH: When we analyse works previously published in Cha, we simply add a link to the relevant pieces (instead of reprinting them on the critique column). The writers usually leave us comments regarding the pieces and they can be found on the Fine Tea web site.
LR: In the latest issue of Cha, your co-editor Jeff Zroback commented that "the written word and the Internet are perhaps the two best ways to travel, to experience new things without ever leaving the comfort of your house". He also remarks that editing an online journal from home "slips into the quotidian". Could you comment on what it has been like to publish and online journal? What are the advantages or disadvantages of being online instead of on paper? Is it any more important for a writing community like the Asian diaspora?
TH: Jeff said it was 'quotidian' because we live together so of course the running of the journal slips into our day-to-day routine to a certain extent. That having been said, there is an element of travelling and having the world come into our computers associated with the journal.
As far as I see it, there are two main advantages to publishing online. The first is obviously cost. We simply couldn't afford to publish a physical journal without more financial means. The second advantage is the accessibility and exposure the internet offers. If we were publishing a physical journal, we would have a very small and limited circulation. Being online, on the other hand, allows us to reach a wide audience throughout the world and find Asian writers wherever they may be. We don't think we are losing that much by not having a physical copy. We may, however, consider publishing an anthology in the future, if we can secure funding.
LR: How have you found guest editors, and how have you found working with different guest editors helped or shaped Cha?
TH: One special feature of Cha is that we have at least one guest editor for each issue. The guest editors read the submissions with us and help us select works; they are among people who have appeared in the journal. We think that this process brings freshness and a new set of eyes to our submissions and thus gives each issue a slightly different feel. We both appreciate the new perspective the guest editors bring to the editorial process. The guest editors we have had so far include Eddie Tay, Arthur Leung, Nicholas Wong, Reid Mitchell, Bob Bradshaw, Royston Tester, Jonathan Mendelsohn and Gillian Sze.
We are particularly grateful that Eddie approached us to be our first guest editor. He eventually became our Reviews Editor. Reid has served as guest editor several times and now he is our Consulting Editor. Bob is not only a regular contributor (his poetry has been published in Cha two times), he also acts as a Tea Taster for our critique column, "A Cup of Fine Tea." Arthur and Royston will return as guest editors in future issues, perhaps indicating that their experience of working with us was a pleasant one. Other guest editors such as Jonathan and Gillian have had creative works published in more than one issue of the journal. Gillian is our first female guest editor and therefore she will always have an important position in the journal.
LR: Any other future plans for Cha?
TH: We don't have specific long term plans at the moment except for continuing to put out the journal and hopefully keep growing our readership.
LR: Last but not least, advice for writers and other members of the writing community?
TH: Keep writing. Keep reading.