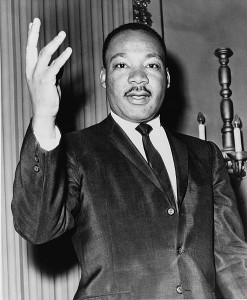 Martin Luther King, Jr. would have been 81 years old today.  I wanted to do a prompt this week which engaged thoughtfully (in some way) with his legacy—with the work that he began and which continues today—and so I was pleased to stumble upon Laura Gamache's lesson plan, "The Right to Inquire" (on the Teachers & Writers Collaborative's web site), in which she uses poetry as a means to link the questions about equality raised by the Civil Rights Movement with contemporary racial injustice for a group of children two generations removed from MLK's era.  In her three-part exploration, Gamache juxtaposed the big, outspoken rhetoric of the challenges raised in Langston Hughes' poem, "Let America Be America Again" with the much-quoted rhetoric of Emma Lazarus's "The New Colossus" and asked her students to write poems that engaged in different ways with questions about the slippery relationship between what we imagine or idealize as "freedom," and the reality of the matter.
In may ways, I think that Gamache's title, "The Right to Inquire," touches a vein at the heart of the struggle for social justice as it continues today.  Who has the right to raise difficult questions, or questions that nobody wants to hear?  And who will have the courage to do so?  In reading Hughes' poem myself, I was struck not only by the questions that he raises ("Who said the free? Not me? /Surely not me? The millions on relief today? / The millions shot down when we strike? / The millions who have nothing for our pay?"), but also by the broad claims that he lays to the voices of those who (ought to) have the right to freedom, in order to argue that America has not been "itself," or has not met its own precious standard of liberty, in which the call to equality rings foremost:
"I am the poor white, fooled and pushed apart,
I am the Negro bearing slavery's scars.
I am the red man driven from the land,
I am the immigrant clutching the hope I seek–
And finding only the same old stupid plan
Of dog eat dog, of mighty crush the weak.

I am the young man, full of strength and hope,
Tangled in that ancient endless chain
Of profit, power, gain, of grab the land!
Of grab the gold! Of grab the ways of satisfying need!
Of work the men! Of take the pay!
Of owning everything for one's own greed!

I am the farmer, bondsman to the soil.
I am the worker sold to the machine.
I am the Negro, servant to you all.
I am the people, humble, hungry, mean–
Hungry yet today despite the dream.
Beaten yet today–O, Pioneers!
I am the man who never got ahead,
The poorest worker bartered through the years."
Inspired by this, I decided to experiment with using uncomfortable political questions to frame the shape of a poem.  I challenged myself to riff off the question of ownership (Whose is America?  Who can lay claim to being American?) and ended up using a form similar to the one called for in the "Questions Without Answers" prompt that Mia posted back in December.  Having just returned from a trip to France, where I was asked over and over again, "Where are you from?" (sometimes multiple times by the same person) I was reminded of the way in which the racial attributes of my physical appearance precede me everywhere I go, mapping me indelibly onto the geography of Asia despite my American birth and citizenship.  Whether I'm in London, Paris, New York, or even in San Francisco (I was once asked very loudly by a fellow passenger in SFO whether I spoke English), my face reads universally as "foreign," appearing to betray the claim that I profess to hold on American culture, my status as an American citizen, the English language.   That the "perpetual foreigner" stereotype (and general xenophobia) still continues to be a subconscious factor in how we perceive the parameters of American national identity today begs the question of how far we have yet left to go in reaching the ideal that Hughes challenges Americans to meet.  The Chinese Exclusion Act may have been repealed, attempts (arguably paltry ones) may have been made at redress for Japanese American internment, but still, a Singaporean family friend of mine is stopped by the NJ Hwy Patrol and told to "go back to where you came from," Congress speculates about putting up a wall to keep out Mexican immigrants, a Philadelphia business owner puts up a sign declaring that "This is AMERICA: WHEN ORDERING 'SPEAK ENGLISH,'" protesters turn "tea parties" meant to express their concerns about national healthcare policy into an opportunity to express their discomfort with the President's mixed race ancestry (questioning his American birth and citizenship because of his middle name), and Bo Deitl throws a barb at Katie Couric by announcing on national television that "She looks like a Halloween cartoon.  She's got her eyes pulled so far, she's starting to look Chinese . . . Ten years ago, she looked American. Today she is an Oriental." Whose is America, then?  Who can claim this country?  Are we still a nation in which the privilege of citizenship is only "fully" claimable by a certain kind of person?
This week's prompt is therefore as follows:
Prompt: Write a poem that frames itself in terms of a challenge to an uncomfortable political question.
And here is (at least the start of) my attempt:
Who

told you that
I was born a stranger?
Was it the fleshy plain
of my nose, bearing
its flaps of nostrils
with bridgeless
timidity, or perhaps
my eyes, their creaseless
brown, opaque, with irids
bleeding into muddy
apertures?  Tell me,
please, which one
spoke out of turn,
delivered up a map
spilled out of joint,
forgot both provenance
and ruler:  Tongue,
which never scrolled
its buds against
another grammar,
legs wound tight
in soil fine and bled out
clean as this?
As usual, we invite you to share excerpts of your own attempts at this exercise in the comments below.