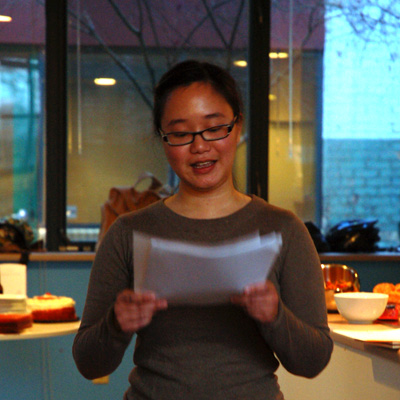 Last week, I had the privilege of attending a farewell reading for South Bend, IN based novelist, Lily Hoang.  Lily received her M.F.A. from the University of Notre Dame in 2006, and has since been living in the area, teaching at St. Mary's College, and furiously turning out new work.  In 2007, her first book, Parabola, which won the Chiasmus Undoing the Novel Contest, was published, and in 2008, her novel Changing came out from Fairy Tale Review Press.  She also has a chapbook (Mockery of a Cat) out with Mud Luscious and has three forthcoming full-length books in the pipeline: The Evolutionary Revolution (Les Figues Press, 2009/2010), Invisible Women (StepSister Press, 2010), and Unfinished (Jaded Ibis Press, 2012).  Lily's books are incisive, imaginative and form-bending.  She plays with convention and elasticizes the boundaries of narrative and the space of the page in all sorts of ways.  She's also well-loved among the members of the Notre Dame Creative Writing community, and has served as a kind of de-facto mentor to many of the current M.F.A. students, so when she recently announced that she is moving to Canada at the end of the year, a couple of my cohorts pooled their resources to throw her a lovely goodbye reading.
The cozy, salon-style event was held in our gracious hostess's apartment on a quiet Sunday afternoon.  Lily was introduced to a packed-to-the-gills living room by a current ND M.F.A. student, and began the event with an excerpt of Invisible Women that recently appeared in Black Warrior Review.  She then moved on to introduce her second selection by talking about the fascinating premise of her forthcoming short story collection Unfinished, for which she contacted 21 different writers and asked them to send her their abandoned drafts.  "I basically told them, 'Send me your trash,'" she said, relating the story of her process, "'and I'll finish it.'"  The result of her experiment is an interesting study in voice (she attempted to keep her versions true to the style of the original author), and a testament to her versatility as a writer.  The selection that she treated us to, a piece called "Your Ballad of Milt and Stanley" that began with a story remnant of  Brian Evanson's, deftly examines questions of narrative agency and complicity.  The entire story is written in the second person, and as readers/audience members, we become caught up in a net of accusations thrown at the "you" as it progressively becomes wider and more ominous. The unnamed narrator accuses the "you" of power-hungriness, of cowardice, of pathetic self-indulgence at the expense of others, and yet we come to see that the narrator himself is becoming caught up in the position of power afforded to him by the act of accusation and by his own narrative authority. At several points, he taunts the "you" by saying that he could effectively to write the story differently, or make the "you" more sympathetic, but that he's purposely chosen not to do so.  In the end, we are left to wonder which character is the biggest bully, and which the victim — Milt, Stanley, the "you," the audience/reader, or the narrator himself.
The evening rounded out with a very short Q&A, followed by scrumptious refreshments and socializing.   It occurred to me at some point that I very much enjoy the salon-style setting of an informal reading.  I'm fortunate in that we have a several very active people in the program here at Notre Dame who frequently reach out to poets passing through town,  and so the salon-style reading has become something of a tradition for us.  I wondered, at the end of Lily's reading, why I have not heard of this being done quite so often in other places.  There is something very lovely about the intimacy of a small reading in a home setting — as an audience member, I feel much more included in the conversation surrounding the work being read.  There seems to be a greater sense of community than what I experience in the traditional reading setting with a podium, mic, and lots of chairs (which feels much more performative, in a way). Don't get me wrong — there are many occasions in which the podium/chairs/rented hall method are absolutely appropriate — but I think there's something to be said about the somewhat more conversational experience of the salon reading, as well.
To sum up though, I was very glad to have had the opportunity to hear Lily read again, and from what I observed, it appeared that the rest of the audience seemed to be enjoying themselves immensely, too. Thanks very much to the organizer T.M. for inviting us into her home and supplying us with wonderful refreshments, and thank you to Lily for sharing her work with us one last time.
If you would like to find out more about Lily and her writing, please check out her blog, Lily's Pad.