In America
Most summers we'd barbeque in the backyard
and play concrete football with a red and black Nerf,
whirlwind whistling from mailbox to fire hydrant.
Our neighbor, Chuck, stood in his driveway and learned us
how we were Americaning wrong.
In America, our family names are displayed in English.
In America, my son will play for the Huskies, not you people.
In America, barbeque doesn't smell like that.
In America, we say . . .
In America, in America, in America, in America.
* * *
In America, my brother and I argue over action figures.
We position idols on pedestals of white shag.
Chuck Norris, Sgt. Slaughter, He-Man.
Chuck Norris, will you save America from the world?
Sgt. Slaughter, where is your next invasion?
He-Man, who has the power of the universe?
* * *
In America, plaza signs blink boundless, watching
suburbs slip between temperature and time.
My brother's toddler socks kick off in the car,
bouncing about like giant potato bugs in the back
seat of our father's purple '84 Cougar.
My brother runs naked on the beach, brazenly
unaware of the birthmarks on his back.
* * *
In America, Child Services tell my mother and father
they have beaten us. After all, how are they to know the biology of children?
It's not fair, they say, in America ( ) children don't have those.
Child Services doesn't know about our babies,
the many others born with stains of delayed melanin.
They call it abuse, witchcraft, Mongolian.
* * *
In America, only guilty people complain about authority.
Or is it the other way? Are we supposed to fight the system
or uphold it? I lose track of house rules.
My father fights his temper because America makes him afraid.
He wants to slam doors in faces.
He wants the freedom of flippancy.
He wants to feel powerful in his home, so he laughs.
A hyena's laugh sounds maniacal because laughter
and slaughter confuse easily.
* * *
In America, an ally in workshop tells me this poem is
irresponsible.
It's not fair. Child Services is for good . . .
I am still deciding if I have the energy to explain
the irresponsibility of fair in America.
* * *
In America, our family barbeques laughter in a park over paper plates
of grilled galbi, rice, marinated cucumbers, and kimchi, bags of Doritos,
joking about the time birthmarks became bruises.
We laugh and laugh and laugh and laugh and laugh and laugh.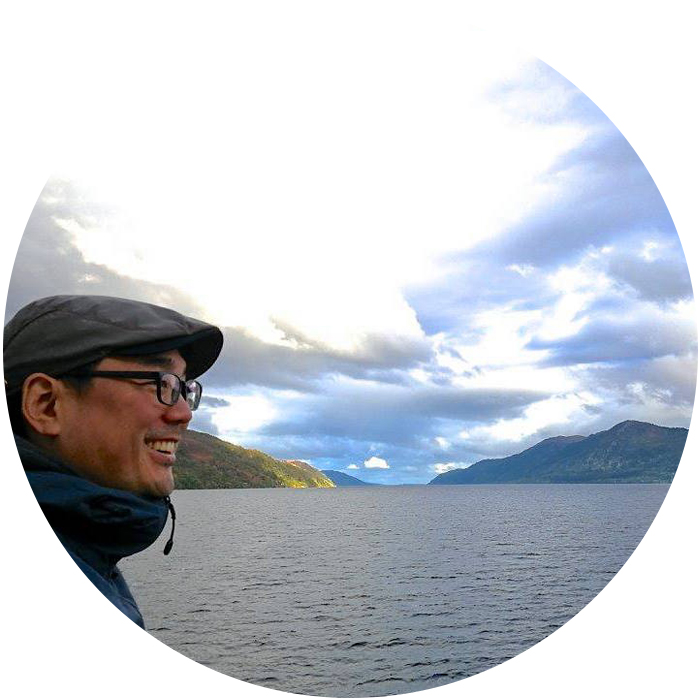 Eddie Kim received his MFA in poetry from the University of Alaska Fairbanks. He is a Kundiman fellow from Seattle, and his poems have appeared or are forthcoming in Poetry Northwest, The Margins, The Rupture, Pinwheel, Midst, Narrative Magazine, LIT magazine, and others. His poem "Telephone of the Wind" was featured on Tracy K. Smith's show, The Slowdown. • Photo by Maggie McLaughlin