avadhū, māyā tajī na jāy
What marks you read as mantras
are Maya—not gold orb-weaver,
but black scratches your mind
hears as sound. Pull out the garnet
of your breast at midnight.
Does it glint red without sun?
The riverbed awaits your salts.
After burning into nitrogen and
carbon dioxide, the bone-fragments
erupting from ash are called pearls—
untouched gems you will never
finger as prayer-beads chanting
the rote in search of god. Selah,
have you ever known your body?
niś din khelat rahī sakhiyān sang
Sakhi, I've stopped following
my breath, why sacrifice want?
This is why I bother
with bangles and nose rings,
black-haired men who unstitch
me. I don't care who watches
my breath from the inside
or that my favorite temple
will slacken and dissolve
into wind. I am still in love
with my five windows.
It's sadistic, my feeding
this suffering, who
like a cuckoo, sings
in the night of my thirst,
a wound-up clock—
Fuck winter, this is how
I'll spend summer.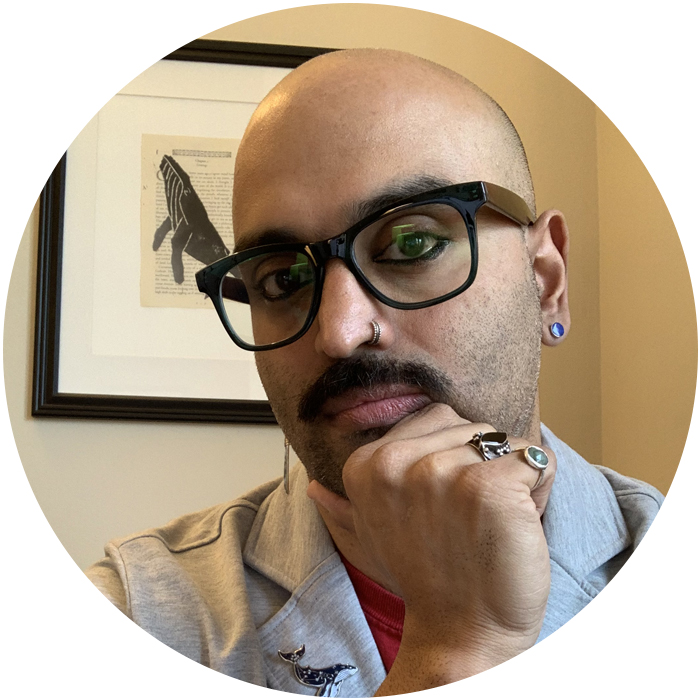 Rajiv Mohabir is the author of The Cowherd's Son (Tupelo Press, 2017; winner of the 2015 Kundiman Prize; Eric Hoffer Honorable Mention 2018) and The Taxidermist's Cut (Four Way Books, 2016; winner of the Four Way Books Intro to Poetry Prize; Finalist for the Lambda Literary Award for Gay Poetry in 2017), and translator of I Even Regret Night: Holi Songs of Demerara (1916) (Kaya Press, 2019) which received a PEN/Heim Translation Fund Grant Award. His memoir won Reckless Books's 2019 New Immigrant Writing Prize and is forthcoming in 2021. Currently, he is assistant professor of poetry in the MFA program at Emerson College and translations editor at Waxwing Journal. • Photo by the author