Fiona Sze-Lorrain
Translation in Process: From Canyon in the Body
About the Translator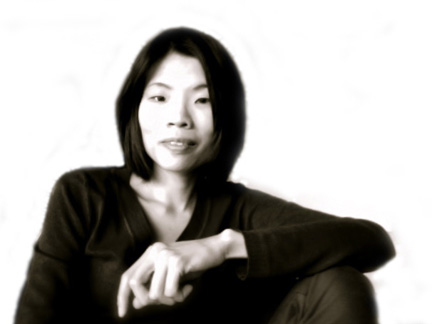 Fiona Sze-Lorrain writes and translates in English, Chinese and French. Born in Singapore, she grew up in a hybrid of cultures. After receiving a British education, she moved to the States and graduated from Columbia University and New York University before obtaining her PhD from Paris IV-Sorbonne. Her new collection of poetry, My Funeral Gondola, is published as a Mãnoa Books title by El Léon Literary Arts in 2013. Her debut poetry title, Water the Moon, appeared in 2010.
In addition to her four books of translation of contemporary Chinese poets (Bai Hua, Yu Xiang, Lan Lan, and Zhang Zao) from Zephyr Press, and prose translations of Hai Zi (forthcoming from Tupelo), she has also translated Romanian-born French poet Ghérasim Luca and American poet Mark Strand (Almost Invisible/Presque invisible, 2012). With Frank Stewart, she has co-edited the Mãnoa anthologies Sky Lanterns: New Poetry from China, Formosa and Beyond (2012) and On Freedom: Spirit, Art and State (2013), both from the University of Hawai'i Press. With Gao Xingjian, she co-authored Silhouette/Shadow: The Cinematic Art of Gao Xingjian (Contours, 2007). A co-founder of Cerise Press, an international journal of literature, arts and culture, and a contributing editor of Mãnoa: A Pacific Journal of International Writing, she currently works as an editor at Vif Éditions, an independent French publishing house in Paris, France. Also a zheng harpist, she has performed worldwide. Her CD, In One Take, was released in 2010.
Artist's Statement
Translation is a meaningful form of resistance: beyond the necessary literary challenges, the experience of living with the work—during and after the translation process—[it] is a test of harmony between my own poems and the engagement of the other. I think of a poem as a secret about a secret, to paraphrase Diane Arbus. In this sense, the act of translating a poem legitimizes a zone where secrets are mobile, and [are] made more present without being visible.
I don't have a specific writing ritual. The same goes for translation. However, I need to work in a room and alone. It seems possible for me to write poems while translating on the side, but not vice versa. I try to honor the experience as best as the work allows. I listen to music to ease the transition from one to the other. Recently, I indulged myself with various recordings of Russian pianist Sviatoslav Richter (1915–1997)—his Bach interpretations strike me as dramatic monologues, staged with and without plot.
The following two translations of contemporary Chinese woman poet Lan Lan, "Man of Few Possessions" and "Lily" are published this spring in Canyon in the Body from Zephyr Press. Born in 1967 in Yantai, Shandong Province, Lan Lan is considered one of today's most influential Chinese lyrical poets. Also a prolific prose and children's fiction writer, she resides in Beijing. Last year, The Offending Adam published a chapbook of Lan Lan's translations in a limited edition. Canyon in the Body will be our first full-length book of translations of Lan Lan in the Anglophone world.
Poems
Man of Few Possessions
by Lan Lan (trans. Fiona Sze-Lorrain)
A katydid and cricket
singer dressed in green and a priest in black robes
among peas on a summer night
whispering, at the ear
"This," a man listens attentively
"—quiet spring water so gently filled
the deep pit of my tragic fate—"
Lily
by Lan Lan (trans. Fiona Sze-Lorrain)
She fainted.
A fragrance wafted up the soft waist
slowly placed her in euphoria.
A swarm of baffled bees
dipped their dreaming stings
into the tender arc of the calyx.