How to Not Forget
Sweep. First with walis ting ting then with walis tambo. Thank the dust and dirt for giving you a moment of purpose. Brew a strong cup of coffee. For later, put a glass Coke in the fridge. Smoke a joint. Put on Pilita, that record with the tattered cover: Pilita in a white terno, her eyes heavy with black liner, her hair a high, high bouffant, riding an impressive kalabaw in front of a sad bahay kubo. Lay on the floor and say aloud the words you can translate in real time:
ganda lungkot kahirapan puso buhay ginto
Hear your stomach: kumain ka ba? Crave a chili cheese hotdog. Curse being so far from a Coney Island or a Sonic. Remember the pork belly you bought from Costco; slice and sauté it with a knob of ginger, a whole bulb of garlic, and a fistful of sili. Bagoong to taste. Coconut milk. Simmer. Pour it all over a clean bed of steaming Cal Rose. Eat until your heart feels less empty. Cry. Don't cry. All your ghosts get it. They miss you, too. Take that cold Coke out of the fridge. Hold the glass bottle to your third eye. Try to remember that story about Francis Ford Coppola bringing a truck of Coca-Cola for the whole barangay, everyone an extra in the zenith of his opus, an imperialist remix of an imperialist text, paid in sugar and caffeine. Didn't the dictator let the director borrow a fleet of helicopters? Think about the rhyme of flame and fame. Think of that poet who left women cans of Coke and notes that began . . . is even more fun than going to San Sebastian. Smirk that you never slept with him. Enjoy your burn of bubbles. Burp. Think of the ghosts that live in your body. Gather: all the mirrors in your home, a piece of broken capiz; the calamansi juice, pandan leaves, banana leaves solidified in your freezer (you can't get this shit fresh, but you can at least get it two hours from where you live). Wrap yourself in the malong you bought in Quiapo and memorize a menu comprised of at least twelve desserts. Light all the purple candles in the house. Make promises. Sabihin mo lahat dito sa Tagalog, sabihin mo laging malungkot ka pagkatapos sahibin mo hindi lagging totoo yan. Sabihin mo kailangan pa kita, sabihin mo marami ka pang gagawin and hope that your ghosts forgive all you keep trying to remember.
Inside My Lola's Handbag
a sandwich bag of chicken bones
a sandwich bag of tissues (used)
a palm-sized Santo Niño, Louis XIV Sun King
(Skyflake crumbs and dust in his plastic hair)
Werther's Originals wrappers
a sandwich bag of sandwich bags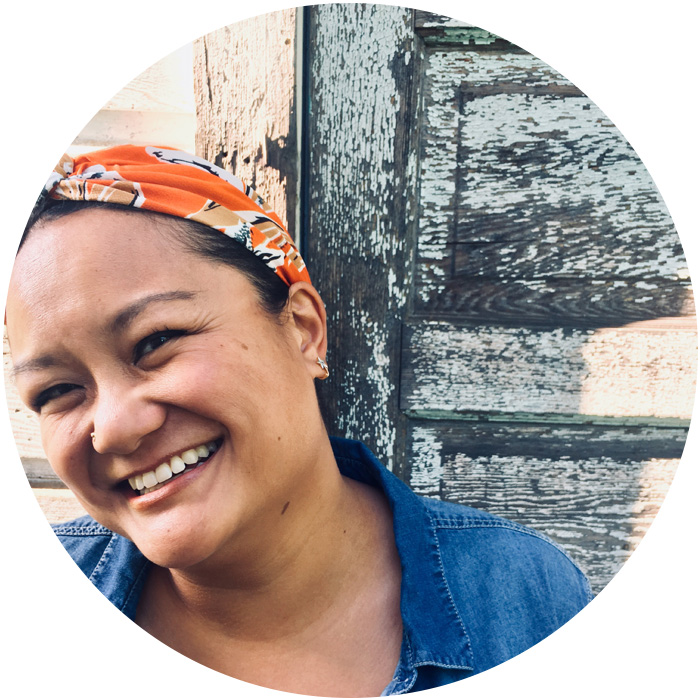 Michelle Peñaloza is the author of Former Possessions of the Spanish Empire, winner of the 2018 Hillary Gravendyk National Poetry Prize (Inlandia Books, 2019). She is also the author of two chapbooks, landscape/heartbreak (Two Sylvias, 2015), and Last Night I Dreamt of Volcanoes (Organic Weapon Arts, 2015). The recipient of fellowships and awards from the University of Oregon and Kundiman, Michelle has also received support from Lemon Tree House, Caldera, 4Culture, Literary Arts, VONA/Voices, and the Bread Loaf Writers' Conference, among others. The proud daughter of Filipino immigrants, Michelle was born in the suburbs of Detroit, Michigan, and raised in Nashville, Tennessee. She now lives in rural Northern California. • Photo by Alex Cummings